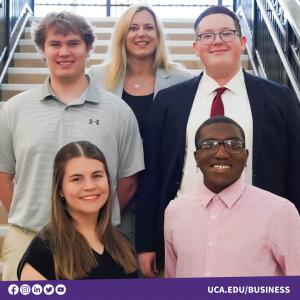 Congratulations to business students Michael Isaac, Caitlyn Bellamy, Mason Smith, and Jayce Burney, led by Dr. Louisa Moseley, who recently won first place in the "Up to Us" national competition for their submission entitled, "Aligning Fiscal and Climate Policy." The team will present at the Civic Learning and Democratic Engagement meeting in Boston later this month.
The team's policy proposal focused on the problem of methane emissions from landfills coupled with a lack of recycling. They proposed a landfill tax on business to incentivize a reduction in waste while increasing federal revenue. The funds from this tax would be used to fund infrastructure and innovation for climate initiatives, as well as reduce the national debt.
Up to Us is dedicated to building a sustainable economic and fiscal future for America's next generation and is the only nationwide, campus-based campaign focused on engaging and empowering students to build a sustainable economic and fiscal future. Up to Us leaders are aware of the importance of fiscal and economic issues, and work to advocate for changes in their communities and beyond. Colleges and universities across the country are engaged through impactful, creative campaigns that highlight the importance of addressing the national debt and other fiscal issues for America's future generations.
The TOP 5 TEAMS from our 2023 Case Competition
First Place Team Spring 2023
– University of Central Arkansas: Aligning Fiscal and Climate Policy
Teams 2-5 Spring 2023 (Ranked Alphabetically)
– Slippery Rock University: Improving US Healthcare: Affordable & Effective Care
– Slippery Rock University: Promoting Effective & Fiscally Responsible Climate Policy
– Slippery Rock University: Rethinking Higher Education: A Path to Reform
– William & Mary: Innovative Clean Energy Standard Policy