---
New at ACRE:
Are you a UCA student interested in economics, history or law? Consider applying for one of our three Fall 2019  student reading groups.
Increasing skills, labor productivity, and wages have often gone hand in hand throughout U.S. history, though not always. Why not? Join the Economics reading group to find out. 
Is violence a legitimate means of changing society or of purging it of dangerous enemies? Debate this with new friends as part of the History reading group.
Why do corporations have free speech rights? Are religious freedoms guaranteed by the Constitution? What are the limits of federal power? Students in the Law reading group will learn about landmark Supreme Court cases on these issues and more. 
Talk with your classmates about articles, podcasts, books, and more. All groups meet weekly. Dinner and readings  are provided. A $500 scholarship will be awarded upon completion of the reading group. Click here to apply today!
---
Interested in learning about what's really happening in Arkansas's economy?
The latest economic news can be confusing or misleading without a comparison to long-run trends. And news reports also often leave out a careful comparison with trends in our neighboring states and the nation as a whole. Plus, what do all those numbers really mean?
Our new book, The Citizen's Guide to Understanding Arkansas Economic Data can help citizens and policy makers to better understand all that data in the news — and what it can tell us about our state's strengths and weaknesses. 
Released in early 2019, expert authors, Dr. Jeremy Horpedahl, an ACRE scholar and assistant professor of economics at the University of Central Arkansas; Amy Fontinelle, author and editor of hundreds of public policy works; and Greg Kaza, Executive Director of the Arkansas Policy Foundation walk readers through the ups and downs of common economic measures.
---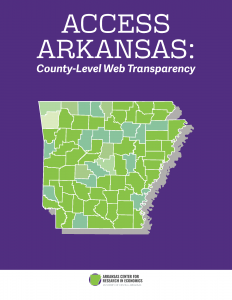 Where does your county rank in terms of transparency? Find out in ACRE's Transparency Index released in September, 2018.
This inaugural index ranks all Arkansas counties by how much financial, political and administrative information their websites contain. It was produced by ACRE Policy Analyst Dr. Mavuto Kalulu and Program Coordinator Terra Aquia along with Joyce Ajayi, a candidate in the Interdisciplinary PhD in Leadership Studies program at the University of Central Arkansas.
Arkansas counties earned an F grade in the  2013 Transparency Report Card produced by the Sunshine Review. The authors hope the index will motivate Arkansas county officials to improve access to this important information for their constituents and encourage Arkansans to learn more about how their money is being spent.
A 2019 version of the index is tentatively scheduled for the end of the year.
---
The Arkansas Center for Research in Economics (ACRE) is an Arkansas focused research center housed in the College of Business at the University of Central Arkansas. ACRE scholars and policy analysts use academic research and original analysis to educate the public on important issues of public policy in Arkansas. Our research focuses on barriers to employment, taxes and spending, targeted incentives, and government transparency. ACRE promotes solutions that respect the personal and economic freedoms of individuals because protecting and expanding these freedoms has a proven record of improving the lives of people around the world and here at home.
---
Sign up for the ACRE Newsletter: