Spring Speaker Series Kicks off February 7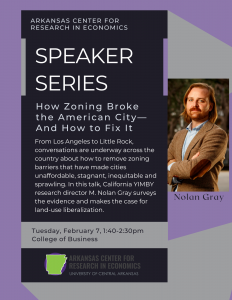 ACRE is bringing three outstanding speakers to UCA this spring. Nolan Gray, urban planning PhD student from the University of California in Los Angeles; Dr. Marcus Witcher of Huntingdon College in Mobile, Alabama; and Meg Tuszynski, Director of the Bridwell Institute for Economic Freedom, all promise to deliver inspiring and thought provoking presentations.
The Spring Speaker Series kicks off February 7. Nolan Gray's presentation will explore How Zoning Broke the American City and How to Fix it.
Dr. Witcher's presentation, Black Entrepreneurship: Building the Foundation for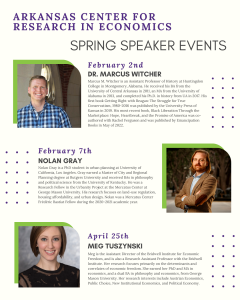 Freedom, originally scheduled for February 2, has been rescheduled to March 16, due to inclement weather. Meg Tuszynski will discuss Economic Freedom: What it is and Why it Matters," April 25.
Mark your calendars for Feb. 7, March 16, and April 25, and don't miss these three engaging speakers.
Read more about each here.