Spring 2023
Nolan Gray – How Zoning Broke the American City and How to Fix it
Tuesday, February 7, 1:40 p.m. College of Business auditorium
From Los Angeles to Little Rock, conversations are underway across the country about how to remove zoning barriers that have made cities unaffordable, stagnant, inequitable and sprawling. In this talk, California YIMBY research director M. 
Nolan
 Gray surveys the evidence and makes the case for land-use liberalization.
Dr. Marcus M. Witcher —  Black Entrepreneurship: Building the Foundation for Freedom
Thursday, March 16, 1:40 p.m., College of Business Room 100
In this talk, Dr. Witcher discusses the efforts by black businessmen and businesswomen, entrepreneurs, mutual aid societies, and voluntary organizations in creating networks of black Americans who contributed to the success of the Civil Rights Movement in the 1950s and 1960s. He argues that without entrepreneurship and civil society it is unlikely that the CRM would have been successful. He discusses the efforts of Booker T. Washington, W.E.B. DuBois, Madam C.J. Walker, The National Negro Business League, the NAACP, the Black Elks, John Johnson, TRM Howard, and others in this talk. It is largely taken from chapter six of his book, Black Liberation Through the Marketplace (co-authored with Rachel Ferguson).
Meg Tuszynski – Economic Freedom: What It Is, and Why It Matters
Tuesday, April 25, College of Business auditorium
What is the proper role of government in a free society? Should it act as an umpire, or an active participant in the economic game? According to Meg Tuszynski, managing director of the Bridwell Institute for Economic Freedom, flourishing societies require governments to protect property rights and enforce contracts, but refrain from doing much else.
This isn't just conjecture. Meg and her team at the Bridwell Institute work each year to update the Economic Freedom of North America and Economic Freedom of the World indices, and conduct research exploring the benefits of free societies. In this talk, Meg will discuss the cornerstones of the indices, detail recent trends in economic freedom at both the country- and state-level, and examine some of the broader impacts of economic freedom.
Fall 2022
Kasia Tarczynska – The Pitfalls of Targeted Economic Incentives
Thursday, November 3. 1:40 p.m., College of Business  Room 214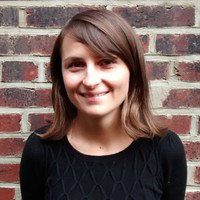 Every year large companies extract about $95 billion from state and local governments through so-called economic development incentive programs. These company "incentives" can take the form of tax breaks, cash grants, discounted land and many other types of public support. Unfortunately, not enough is known about whether companies are creating jobs or investing as they promised when they got the subsidies – or even, in many cases, which companies even received a subsidy. Ms. Tarczynska's presentation will discuss economic development subsidy programs, issues with those policies, and the need for greater transparency. The presentation will also discuss our recent evaluation of state-level economic development programs in all 50 states plus DC; find out what makes Arkansas one of the least transparent in the nation.
Kasia Tarczynska is a Senior Research Analyst at Good Jobs First, a national resource center that promotes corporate and government accountability in economic development. Kasia joined Good Jobs First with experience in community development and organizing. At Good Jobs First, she performs various research on transparency and accountability of state and local economic development practices and programs, provides technical assistance to partner organizations, elected officials and journalists, and manages Subsidy Tracker and Amazon Tracker databases. She has a Masters in Urban Planning and Policy from the University of Illinois at Chicago. Kasia is originally from Poland.
Dr. Peter Calcagno – How Systematic Deficits Got Started
Tuesday, September 27. 1:40 p.m., College of Business Auditorium
Dr. Peter Calcagno is Professor of Economics at the College of Charleston, and the Director of the Center for Public Choice and Market Process. He is a Public Choice and Public Policy Project Fellow with American Institute of Economic Research. Dr. Calcagno's areas of research include applied microeconomics, public choice, and political economy. In addition to authoring numerous journal articles and book chapters, he is the editor of Unleashing Capitalism: A Prescription for Economic Prosperity in South Carolina.
Dr. Calcagno's presentation at UCA will address questions such as
Why has the national debt grown year after year?
Why have attempts to stop the growth of the national debt failed?
What strategies for controlling the national  debt would be effective?
To see our past speakers, you can view our speaker series archive here.