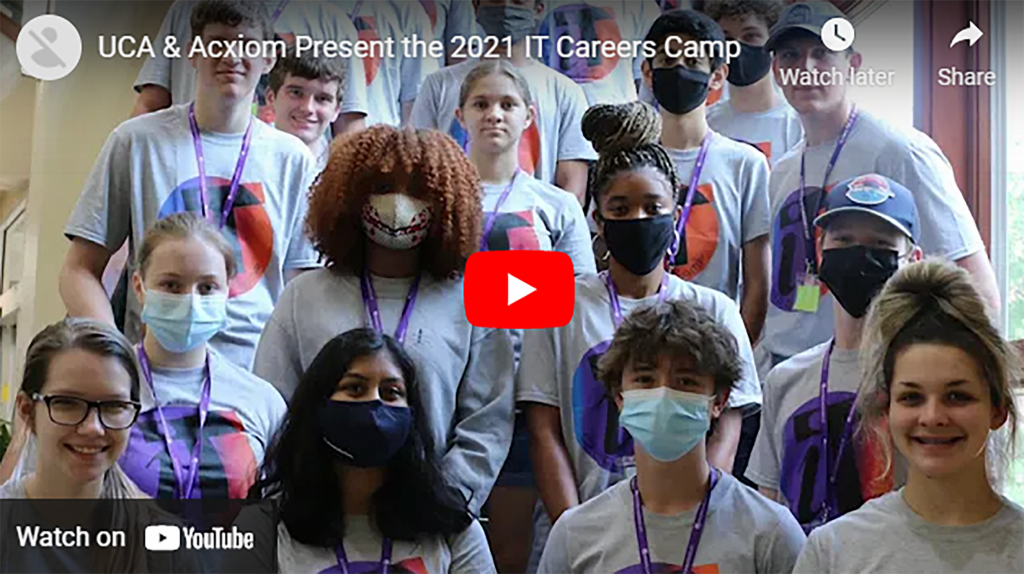 (Conway, AR) – The University of Central Arkansas (UCA) College of Business and Acxiom partnered last week for a four-day Information Technology (IT) Careers Camp to introduce high school students from all over Arkansas to technology-related careers. Nearly 30 students stayed on UCA's campus, were mentored by industry experts, and participated in exercises in programming, cybersecurity, robotics, 3D modeling, and 3D laser printing.
"Students make connections with other students, instructors, and industry professionals that they can carry from high school to college and through to their professional careers," said Susan Shaw, Camp Director and Lecturer for the UCA Department of Computer Information Systems and Analytics (CISA).
Shaw added that while on campus, the students experience campus life, learn about college programs that lead to careers in Information Technology, and complete hands-on activities.
Acxiom sponsored the UCA IT Careers Camp and offered mentorship opportunities throughout the camp to students. The Acxiom mentors helped students with activities and shared about how their education in business and technology led to the IT careers they have today.
"One of Acxiom's core values is innovation," said Jhade McConnell, Acxiom Solutions Architect and 2017 graduate from the UCA College of Business. "We come to this camp at UCA to show high school students the tools needed to navigate technology and pique their interest to be creative with these tools."
The camp began with a diverse panel of alumni and industry experts who answered student questions and explained their unique career paths in the Business Information Technology industry. The next day, students were guided through cybersecurity activities in a computer lab and visited UCA Makerspace for some hands-on fun.
"I really like cybersecurity. I thought it was too complicated, but seeing what I've seen here, I'm inspired to do more," said high school sophomore Isani Patel.
High school freshman Kyler Beard added, "My favorite part of the camp was building the robots, which was lots of fun, and I also liked seeing this simulation of what college life is like."
Students had the opportunity to create and program their own robots, and hear from a NASA Engineer about her experiences at the NASA Jet Propulsion Lab. Hill was part of the Mars 2020 Rover team. The camp ended with an awards ceremony highlighting the achievements of the students.
The camp is held every summer on UCA's campus to allow high school students early hands-on exposure to education paths and career choices in business and information technology.
For more information about the Acxiom IT Careers Camp, visit uca.edu/business.
---
About Acxiom
Acxiom is a customer intelligence company that provides data-driven solutions to enable the world's best marketers to better understand their customers to create better experiences and business growth. A leader in customer data management, identity, and the ethical use of data for more than 50 years, Acxiom now helps thousands of clients and partners around the globe work together to create millions of better customer experiences, every day. Acxiom is a registered trademark of Acxiom LLC and is part of The Interpublic Group of Companies, Inc. (IPG). For more information, visit Acxiom.com.