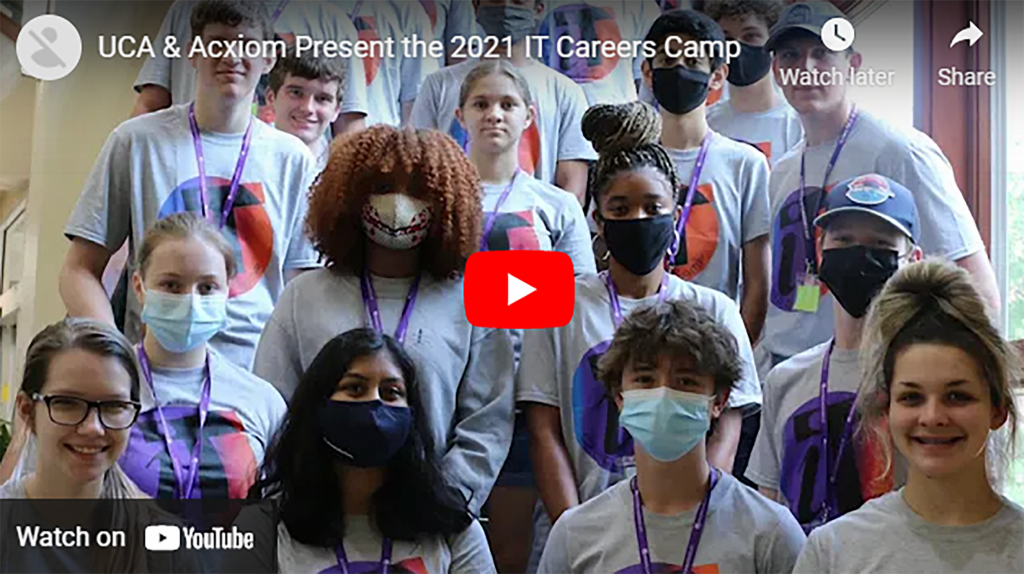 (Conway, AR) – The University of Central Arkansas (UCA) College of Business and Acxiom partnered last week for a four-day Information Technology (IT) Careers Camp to introduce high school students from all over Arkansas to technology-related careers. Nearly 30 students stayed on UCA's campus, were mentored by industry experts, and participated in exercises in programming, cybersecurity, robotics, 3D modeling, and 3D laser printing.
"Students make connections with other students, instructors, and industry professionals that they can carry from high school to college and through to their professional careers," said Susan Shaw, Camp Director and Lecturer for the UCA Department of Computer Information Systems and Analytics (CISA).
Shaw added that while on campus, the students experience campus life, learn about college programs that lead to careers in Information Technology, and complete hands-on activities.
Acxiom sponsored the UCA IT Careers Camp and offered mentorship opportunities throughout the camp to students. The Acxiom mentors helped students with activities and shared about how their education in business and technology led to the IT careers they have today.
"One of Acxiom's core values is innovation," said Jhade McConnell, Acxiom Solutions Architect and 2017 graduate from the UCA College of Business. "We come to this camp at UCA to show high school students the tools needed to navigate technology and pique their interest to be creative with these tools." [Read more…]