This page shows the full list of events available. You may use the menu to sort by category or go back to the Opportunities page for more sorting options.
C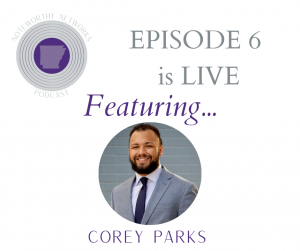 OB alumnus Corey Parks recently joined UCA Career Services for their Noteworthy Networks podcast. The podcast serves to bring the University of Central Arkansas (UCA) students, and any other listeners, career readiness advice from prominent, or rather "noteworthy" professionals who are alumni of UCA.
Parks is certainly a noteworthy COB alumni. After earning his BBA in Insurance & Risk Management (2016) and his MBA (2018) from UCA, he now serves as the Vice President of Economic Development for the Conway Area Chamber of Commerce and Conway Development Corporation. He was also named by Arkansas Business to the 2020 class of New Influentials: 20 in Their 20s.
This is a podcast no one should miss. Listen to Parks' keys to success as he explains how to "Take on Any & All Opportunities."