Undergraduate and Post-Baccalaureate Music Advising
All UCA students receive assistance from an assigned primary academic advisor. All declared undergraduate and post-baccalaureate music majors will be advised by Ms. Carrie Martens, Music Advisor.
All music minors should refer to Ms. Martens for assistance navigating music minor requirements. Music minors are encouraged to schedule an appointment with Ms. Martens once per semester to ensure efficient and appropriate fulfillment of minor requirements.

Ms. Carrie Martens
cmartens@uca.edu
SFA Room 208
501-852-1212
Graduate Music Advising
Students pursuing the Graduate Certificate in Music are advised by Dr. Louis Young.
Students pursuing the Master of Music are advised by Dr. Paige Rose.
Scheduling an Appointment
Any student may schedule an appointment with Ms. Martens for assistance at any time.
You will be scheduling an appointment through Google Calendar and will be prompted to log in to a Google account. You can use your cub.uca.edu account but you must include "cub.uca.edu" at the end of your user name.
If you have not previously used Google Calendar with your account, the appointment times may be listed in the incorrect time zone. When you open the appointment calendar, if the "8:00 AM – Not an Appointment" block is not listed in the 8:00 AM time slot on your appointment calendar, the time zone for your Google Calendar account is not set to the Central Time Zone. Use the "8:00 AM – Not an Appointment" block as a reference to select the time you want in Central Time.
To Set Your Google Calendar Time Zone
Visit calendar.google.com. Click on the settings icon. Under the "General" settings find "Time Zone." Set your primary time zone to (GMT-05:00) Central Time -Chicago. 
As of Monday, March 16th 2020, all music advising appointments will be conducted via phone until further notice. When scheduling your appointment, please replace the "what" text with your name and phone number (see image below).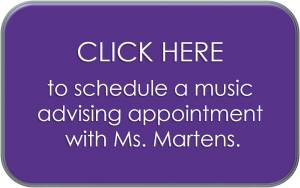 Music Advising Resources
The Music Major Advising Center, SFA 208, houses advising resources and physical copies of the forms and documents located on this page. SFA 208 will always be open and accessible for music majors and minors any time the building is open.
Admission to the Bachelor of Music Performance Concentration 
Current music majors interested in pursuing the Bachelor of Music Performance Concentration must apply for admission and successfully audition to declare this concentration. During a fall or spring applied jury performance, the student must submit a Bachelor of Music Performance Concentration Application. The applied jury performance will serve as an audition for admission to the Bachelor of Music Performance Concentration. Admission requires a signature of approval from all applied music faculty in the student's area of study on the Bachelor of Music Performance Concentration Application.
Admission to the Bachelor of Music Composition Concentration 
Students interested in pursuing the concentration in Composition should notify the Composition faculty during the first semester of the freshman year, take MUS 2233 Composition Class in the spring of the freshman year, and submit the BM Composition Concentration Application that includes submission of two or three pieces for different media at the end of the freshman year. Successful completion of MUS 2233, 1232, and 1233 with a grade of A or B and a satisfactory audition are required for admission to the program.
Creating Your Personal Degree Plan
Before your advising appointment during your fourth semester of music study, you must complete a personal degree plan that outlines a semester-by-semester plan for successfully completing all remaining degree requirements. You will review your plan with Ms. Martens during your academic advising appointment. Carefully read and follow the instructions on the first page of the document to edit, save, and share your personal degree plan. Please note that your individual advising check sheet (emailed to you as a PDF following your advising appointment) as well as the Academic Map for your degree concentration are helpful resources for completing your Personal Degree Plan. 
Important Reminders for Music Majors
DO NOT enroll in a degree-required course if you did not earn a passing grade in one or more of its prerequisite courses.  For example, do not register and enroll in Music History I if you earned an "F" in Introduction to Music Literature. For music education majors, a "C" or better is required for all pedagogy, technology, professional education, and internship courses. For example, music education majors who earn a "D" in MUS 3305 Elementary Methods should not enroll in MUS 3304 Secondary Methods in Instrumental Music Education or MUS 3306 Secondary Methods in Choral Music Education.
Beginning with your fifth semester of music study, always register for 4000-level applied lessons and ALL ensembles.
Music Degree Check Sheets
Below you will find a 2019-2020 advising check sheet for each music degree/concentration currently offered at the University of Central Arkansas. Please note that an advising check sheet is an advising tool. Students should refer to and be familiar with their specific degree requirements and university academic policies stated in the Undergraduate Bulletin, particularly the UCA Core including Lower-Division Core Requirements as well as Upper-Division Core Requirements.
Bachelor of Music Education:
Music Education – Woodwind    Music Education – Brass    Music Education – Percussion
Music Education – Strings   Music Education – Piano Instrumental    Music Education – Piano Vocal
Bachelor of Music, Performance Concentrations:
Music Performance – Instrumental     Music Performance – Piano    Music Performance – Vocal
Bachelor of Music, Composition Concentration:
Bachelor of Arts in Music and Music Minor:
Bachelor of Arts in Music   Minor in Music
Helpful Links
Center for Writing and Communication 
CLEP- College Level Examination Program
Office of Candidate Services (Teacher Education Program Admission)