Apply to be a member of the DOME Team!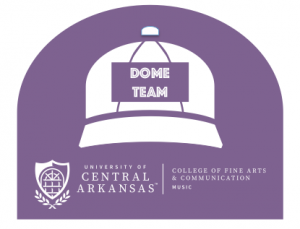 We're looking for a few good students to be a part of the
Department of Music Excellence Team.
Only a few select students will be chosen for this elite team, which will serve as department mentors, representatives, & spokespersons for events. It's your chance to be a face and name on this breakthrough group, designed to serve the department and its students.
The DOME Team will be utilized for Bear Facts Days panels, department recruiting events,
music major resources, freshmen orientation, & meetings with the department chair to further student excellence in the Department of Music.
Perks include free goodies, invitations to Friends of Music events, & rich leadership, service, and teamwork experiences for life (& your résumé).
Members will be expected to attend a two-hour training session, be present for freshmen orientation, attend two DOME Team meetings per semester and represent the department at two scheduled events per semester. Additionally, all members will share in a unique "on call" availability for mentoring students. All commitments and scheduling will take into account students' music events and their general availability.
Apply here by July 20th.
Useful Links
Social
UCA Music Department Faculty and Students – This link will take you to a closed Facebook group. Members of this group are taking lessons, members of ensembles, or both. You can request membership and it will be either approved or denied by an administrator. The purpose of this group is to serve as an informational connection strictly between students and faculty members.
University of Central Arkansas Department of Music – This link will take you to the public Facebook page for the department. This group will post information about our alumni, departmental events, as well as pictures and other public announcements.
Course Resources
Degree Checksheets
For degree check sheets as well as information on advising please visit the advising page.
BM Instrumental Education Check Sheet
BM Piano Instrumental Education Check Sheet
BM Piano Vocal Education Check Sheet
BM Vocal Education Check Sheet
BM Instrumental Performance Check Sheet
BM Vocal Performance Check Sheet