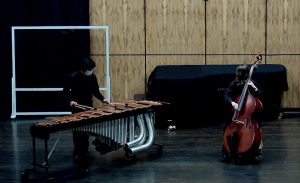 General Recital Scheduling Policy
General Recitals occur on Tuesdays and Thursdays at x period (1:40-2:30 pm). These are scheduled to begin about a month after the beginning of the semester. This coincides with the conclusion of special topics seminars for MUS 1000, which is the Music Recital Attendance course. General Recitals will be scheduled based on demand, and may sometimes be replaced by visiting artists or Artists in Residence. Ordinarily, a minimum of three separate student performances will be required for a General Recital to take place. Scheduling for General Recitals will be on a first-come, first-served basis, with exception of the following restrictions. Students will be limited to a maximum of two (2) General Recital appearances per semester, or a total maximum of 20 minutes. This rule may be waived if unfilled time permits additional scheduling during the semester. A waiver of this rule may also be considered for chamber music performances.
Students or faculty directors may submit requests to perform on General Recital by filling out the form below. A confirmation email will automatically be returned, and notification emails will automatically be sent to the MUS 1000 instructor, the applied teacher, the accompanist (if applicable), and the Coordinator of Collaborative Piano. Details and confirmation of the scheduled performance will also be sent to all of these parties at least one week in advance of the chosen General Recital date. Please note that faculty reserve the right to postpone or cancel any performances if necessary.
THERE ARE NO MORE SPACES REMAINING FOR GENERAL RECITAL IN SPRING 2023.
PLEASE NOTE: If you will be submitting another form immediately after this, please start the form again from a new page in your browser. The system will not allow another form submission if you "go back" to edit and press submit again.