ENGL 3325: Advanced Readings in World Literature
From Ovid to Hamid: Transformations and Influences
Acts of translation, adaptation, borrowing, and appropriation have been integral to literary production in all languages. This class juxtaposes hyper-canonical with counter-canonical works to explore how the former influence the latter and how the latter transform the former. The course will start with selective readings of Ovid's Metamorphoses, followed by the librettos of Monteveridi's Orfeo and Christoph Willibald Gluck's Orphee et Euridice, as well as by Sarah Ruhl's play Euridice. The Roman writer's "Apollo and Hyacinth" will be grouped with Mozart's operatic rendition and Louise Gluck's poem "Hyacinth." Arabian Nights, a Persian, Arabic, and Indian cultural amalgam, diverts the course from the familiar domain of Europe and North America and receives a makeover from Naquib Mahfouz in Arabian Nights and Days. Transtexuality takes the center stage in the second half of the semester. Mohsin Hamid's The Reluctant Fundamentalist will be investigated together with its sources from East and West, including Japanese novelist Murakami Haruki's Norwegian Wood, the Hindu epic the Bhavagad Gita, Fitzgerald's The Great Gatsby, Conrad's Heart of Darkness, and Irving's "The Legend of Sleepy Hollow."
ENGL 3345: Literature and the Examined Life
Exploring Community: Hurston, Bambara, & Pine Street CommUnity Museum 
This course seeks to understand the purpose and literary merit found in communities based on a statement local Conway leader, Mrs Leona Walton, made to celebrate her community: "I can't put it all in words, but I can put it in, a museum." Using texts written by Zora Neale Hurston and Toni Cade Bambara, students will compare literary themes to lived experiences via research and service to Pine Street CommUnity Museum.
ENGL 4311/5311: 18th Century British Literature and Culture
 The Rise of the Novel / The Birth of the Individual
"I must create a system or be enslaved by another man's." Blake
"Let me make the novels of a country, and let who will make the systems." Barbauld
The 18th century marked the rise of monumental systems: politically, democracy; socially, the middle class; economically, capitalism; and culturally, the novel. And in a way, the emergence of these systems was symbiotic. This class will work through the 18th-century rise and development of a vibrant and ever-evolving literary genre that both reflected and drove the century's significant socio-political and economic developments
ENGL 4332/5332: Shakespeare
Shakespeare on Location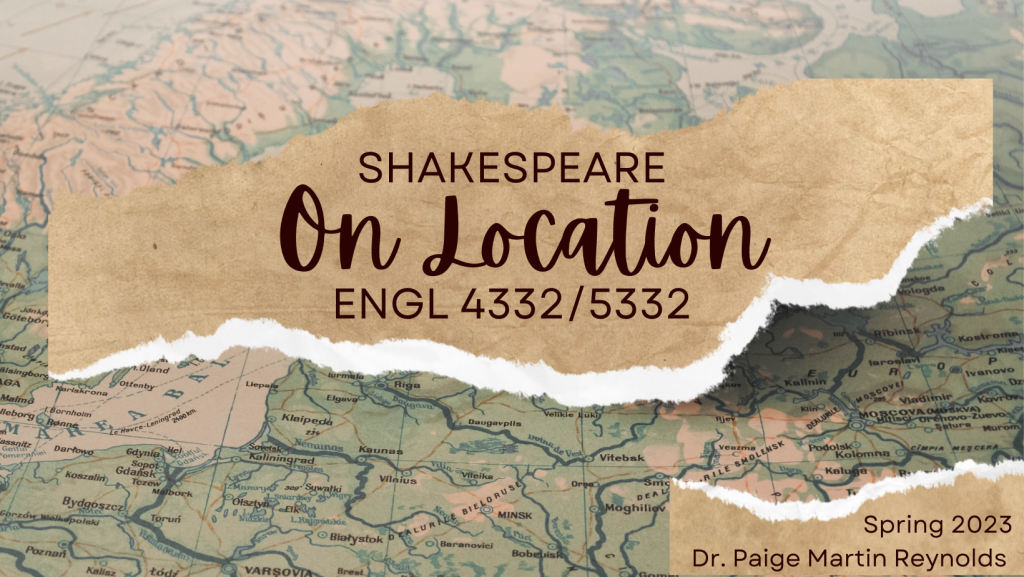 What do Shakespeare's plays have to say about location? How do various settings influence storytelling, character construction, and audience perception (and reception)? When it comes to performance, how much did location matter when the plays were originally produced? And how much does it matter now? How might geography affect not only characters on stage, but spectators off stage? And in what ways might expectations associated with specific performance spaces (a park, a performance hall, a prison) contribute to the shapes of Shakespeare's plays in performance? We'll explore these questions (and more!) as we analyze, discuss, and write about text, context, and performance potential.
ENGL 4335: Senior Seminar
The New Southern Noir
Since it coalesced in the early 20th century, American noir largely has been an urban, coastal, and Northern phenomenon. Typically, the genre has been claustrophobically homosocial and racially homogeneous, too. Against this unlikely backdrop, one of the most intriguing developments in 21st-century American culture is playing out: the blossoming of a new Southern, multimedia noir. Challenges to myriad boundaries animate today's Southern noir, to include innovations in how we think about genre, geography, gender, race, ethnicity, and nation. Our course begins by centering itself in classic American noir and its initial Southern turn, before we dive deeply into this emergent 21st-century Southern noir. Writers we will examine include John Brandon, whose first novel, Arkansas (2008), recently was adapted into a major feature-length film. Brandon will visit our course to talk with students during his time on the UCA campus as an Artist in Residence this March. We also will read Raymond Chandler, James Dickey, Cormac McCarthy, Charles Portis, Jesmyn Ward, and Daniel Woodrell.
ENGL 4340/5340: Major Authors
Octavia Butler
"I began writing about power because I had so little." — Octavia E. Butler
Octavia E. Butler (1947-2006) is an award-winning and internationally acclaimed writer of speculative fiction, and the first African American woman to do so. She won the prestigious Hugo Award and Nebula Award multiple times, and she was the first science fiction writer ever to receive a MacArthur Genius grant. Her fame and legacy are partly the result of the captivating worlds she creates and futures she envisions. But it's also partly because of the fearless way that she tackles difficult and uncomfortable questions. How we define what it means to be human and to have the full experience of humanity is the undercurrent in all her fiction. And what gets included and excluded in those definitions touches on issues of race and ethnicity, slavery and oppression, environmental injustice, age and generational divides, disability, post-humanism, and gender, sex, and sexuality. In this course, we will read some of her most exciting and challenging works, including short stories and books that feature dystopian and post-apocalyptic stories, time travel, and alien lifeforms. We'll also explore different angles of literary criticism and refine our skills in communication and in critical and empathetic thinking.
ENGL 4360/5360: History and Structure of English 
In order to have the best possible facility with the English language, any speaker/writer/reader/teacher of English should know something of the language's origins and the amazing amount of change it has undergone since that first appearance centuries ago. In ENGL 4360/5360, we will begin by understanding what language is and how it comes to be language. Then we'll follow the history of the English language from its probable origin, through the major historical periods of its evolution, to its structure and use in the present day. This course is dense with information, but once a person learns to use what it has to offer, their ability to use, understand, analyze, and experiment with English will markedly expand.
ENGL 4361/5361: Literature for Adolescents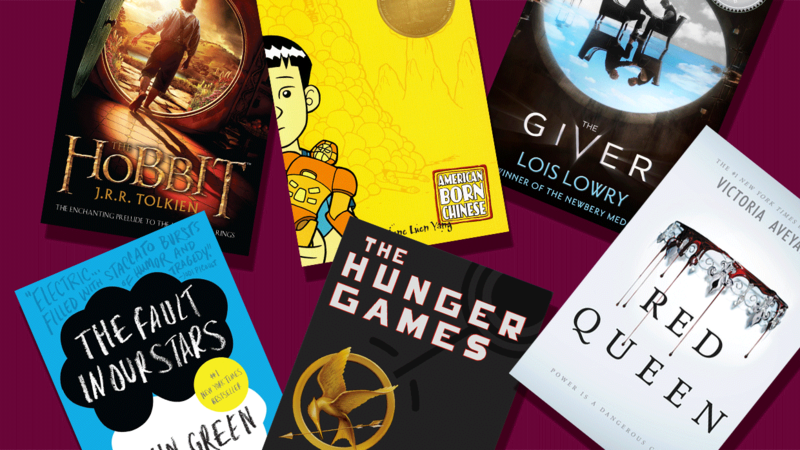 One of the most popular and quickly growing genres in the twenty-first century is adolescent and young adult literature; across a variety of media, people of all ages are falling in love with stories that feature adolescent protagonists and are written for and marketed primarily to an adolescent audience. As we read, discuss, and write about various specimens of adolescent and YA literature, we will use the texts selected for this term as a lens through which to explore facets of this literature and to consider how it contributes to our characterizations and understandings of adolescence. We will consider the following questions, among a variety of others:
How do these texts intervene in cultural definitions of adolescence, subverting or reinforcing various dominant ideas about young people through their portrayal of fictional adolescents and "teen issues"?
What can these texts tell us about the politics of adolescence—i.e., how our definitions of adolescence are tied to cultural, racial, socioeconomic, and sexual or gender identities? Who gets to be categorized as "just a kid" or a "typical teenager," and who tends to get excluded from that categorization? How are some of these texts working to change the politics of adolescence?
How do these texts reflect and engage the social, political, or cultural contexts in which they were written? How might these texts weigh in on larger political or socio-cultural issues in complex and fraught ways?
How can we understand these texts as rich literary works that employ a variety of techniques and devices and can be analyzed using various theoretical frameworks?
ENGL 4366/5366: Literary Theory and Criticism
Subjectivity (and its Discontents)
"Bring something incomprehensible into the world!" – Gilles Deleuze and Felix Guattari, Capitalism and Schizophrenia.
In his 1641 treatise Meditations on First Philosophy, philosopher René Descartes made the declaration: "I think therefore I am," securing a notion of subjectivity exclusive to the human mind…and we've been dealing with it ever since.  This course will survey a number of diverse theoretical and philosophical texts, all of which attempt to work through or expressly challenge a singular human subject they had little choice but to inherit. Reading Kant, Heidegger, Deleuze and Guattari, Lacan, Foucault, Harraway, Puar, and others, we will examine how notions of subjectivity have gone beyond simply accepting a humanist, rational subject and raise questions of non-human agency, what social and political structures guide (or coerce) subjective formation, how language mediates our experience of the world, and the role of the body (rather than the mind) as central to our being in the world.
ENGL 4370/5370: Gender and Sexuality
Creating Dangerously: Voices for Change
"Creating Dangerously: Voices for Change"
What does it mean to study texts that are considered provocative and incendiary? In our current political and cultural climate there is a lot at stake and a lot to be done. How can we, as teachers and students, use knowledge to empower ourselves? The texts that we'll cover this semester question, ignite discussion, and have spurred and will continue to spur controversy. What they have in common is that they are all rooted in a desire to create dangerously, to right wrongs of the past in the hope that the future might look distinctly different.
ENGL 4380/5380: African and African-American Literature
Keeping Secrets in Early African American Literature
Given the racial realities of antebellum America, perhaps it's no wonder that the concept of secrecy is a recurring theme in African American literature of this period. It goes without saying that for enslaved persons who attempted escape, and for those involved in plotting rebellions, secrecy would prove essential. But everyday matters seem to have called for discretion too—whether one was enslaved, free, or legally considered a fugitive. And in a society where racial identity overtly determined one's opportunities, hiding the circumstances of one's birth and ancestry could take top priority for some, an endeavor that required ongoing diligence. The literature we'll read by William Wells Brown, Frank Webb, Hannah Crafts, William and Ellen Craft, David Walker, and others depicts these kinds of situations. As with any secret, there is risk of detection. Indeed, we will encounter scenarios in which carefully guarded information is leaked or used against someone. But secrecy operates on a level beyond plot: some of these writers thought of themselves as exposing what is presumably hidden or denied, which is to say that they sought to illuminate the nation's racial realities via the written word.
ENGL 6306: Seminar in British and Anglophone, 1900-present
Modern and Contemporary British Poetry
 This seminar offers an advanced survey of British poets from Gerard Manley Hopkins, the late-Victorian precursor of modern experimentation, to recent authors such as Tony Harrison, Seamus Heaney, and Eavan Boland.  By semester's end, students should be reasonably familiar with the work of the twenty-plus poets to be read. More generally, they will be able to trace the development of British poetic modernism on a roughly decade-by-decade basis.