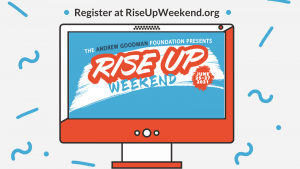 Did you know that the 2020 election marked record highs in youth voter turnout? An estimated 55% of youth aged 18-29 voted in the 2020 election, which marks an increase of 9% over 2016 voting records. On the heels of this historic achievement, the youth civic engagement nonprofit Andrew Goodman Foundation will host their virtual National Civic Leadership Training Summit: Rise Up Weekend. Held on June 25, 2021, this event celebrates and encourages the power of youth voting and civic participation. It provides opportunities for youth, community leaders, policymakers, and voting rights advocates to learn about protecting and enhancing youth voting.
Though the increase in youth turnout was promising, many pieces of legislation aimed to decrease ease of access to voting have emerged in the wake of these advancements. More than 350 bills aimed at making voter ID laws stricter, limiting mail-in and early voting, and complicating the voter registration process have sprang up around the country as of April 2021.
Rise Up Weekend focuses on empowering young people to maintain their voices in public discourse and stand against voter suppression. The event features panel discussions and keynote addresses from elected officials, nonprofit leaders, and celebrated civil rights advocates. Any community official interested in nurturing the civic participation of young people in their area would find resources and inspiration in this training event.
To find out more information about Rise Up Weekend and to register for the event, click here.
Registration is free.
By Greta Hacker