Service-Learning
Academic Service-Learning at UCA…
According to the National Service-Learning Clearinghouse, academic service-learning is a course-based teaching and learning strategy that integrates meaningful community service with instruction and reflection to enrich the learning experience, teach civic responsibility, and strengthen communities.
Resources are available for students, faculty, and community partners in the menu above.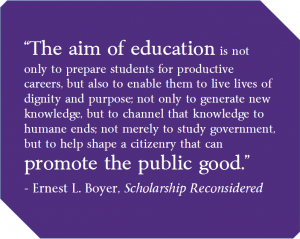 For more information about service-learning at UCA, please contact
Director of Service-Learning
Dr. Lesley Graybeal
lgraybeal@uca.edu
501.852.7416

Service-Learning Faculty Liaison
Dr. Lorrie George-Paschal
lorrieg@uca.edu
501.450.5564
Quick Reference
For Faculty: Service-Learning Faculty Handbook and Essential Items for Service-Learning Faculty
For Community Partners: Community Partner Information Form
For UCA Administrators: Understanding and Supporting Service-Learning at UCA

UCA's Service-Learning Program is proud to be an AmeriCorps host site. Learn more about our program here.