The Center for Community and Economic Development offers several forms of training:
Community Development Institute Central
CDI Central, established in 1987, trains community and economic development professionals in Arkansas and surrounding states. The complete CDI experience is a three-year training program, with one week of training per year. Participants move through the program curriculum in cohorts and are exposed to a comprehensive, applied approach to the field of community and economic development.
Follow CDI online:
---
Regional Training
CCED hosts regional training events across Arkansas throughout the year that cover topics relevant to the community that we are working in. These events feature a variety of training sessions based on the region's needs, such as economic development, community development, placemaking, diversity and communication, workforce development, marketing, leadership, and much more. If you are interested in hosting a regional training event in your area, please contact us at sfiegel@uca.edu.
To find upcoming events, please visit our Events page.
---
Newtonia Go!
Newtonia Go! is a community and economic development simulation that allows participants to experience the development of a community from the ground up and some of the real-life challenges that community leaders and citizens face. If you are interested in hosting a Newtonia Go! simulation in your community, please contact Shelby Fiegel at sfiegel@uca.edu.
---
Poverty Simulation
UCA's Division of Outreach & Community Engagement is equipped to provide your department or organization with skilled facilitation of a three-hour poverty simulation for 25-80 participants. Groups must be able to provide 25 volunteers to host the simulation.
The Community Action Poverty Simulation (CAPS)—an interactive, immersion experience— is owned by the Missouri Community Action Network. The simulation provides a glimpse into the structural barriers of poverty to transform participants' perspectives about their own communities. These transformed perspectives inspire action toward positive community change. If you are interested in learning more about the Community Action Poverty Simulation or purchasing a CAPS kit license, please visit communityaction.org or povertysimulation.net.
Use our Request Form to schedule your poverty simulation with UCA Outreach today!
---
Futures Game Simulation
The Futures Game simulation is a strategic planning simulation that allows participants to take on a leadership role to make long and short-term decisions for the fictional county of Sweet Tea, Arkansas at key decision points. Each decision impacts Sweet Tea County economically, socially, and environmentally. The simulation allows YOU (the participants) to determine the future of the community.  During the debrief portion of the simulation, we review the "whys" behind each decision point and discuss how the simulation relates to our own communities.
If you are interested in hosting a Futures Game simulation in your community, please contact Shelby Fiegel at sfiegel@uca.edu.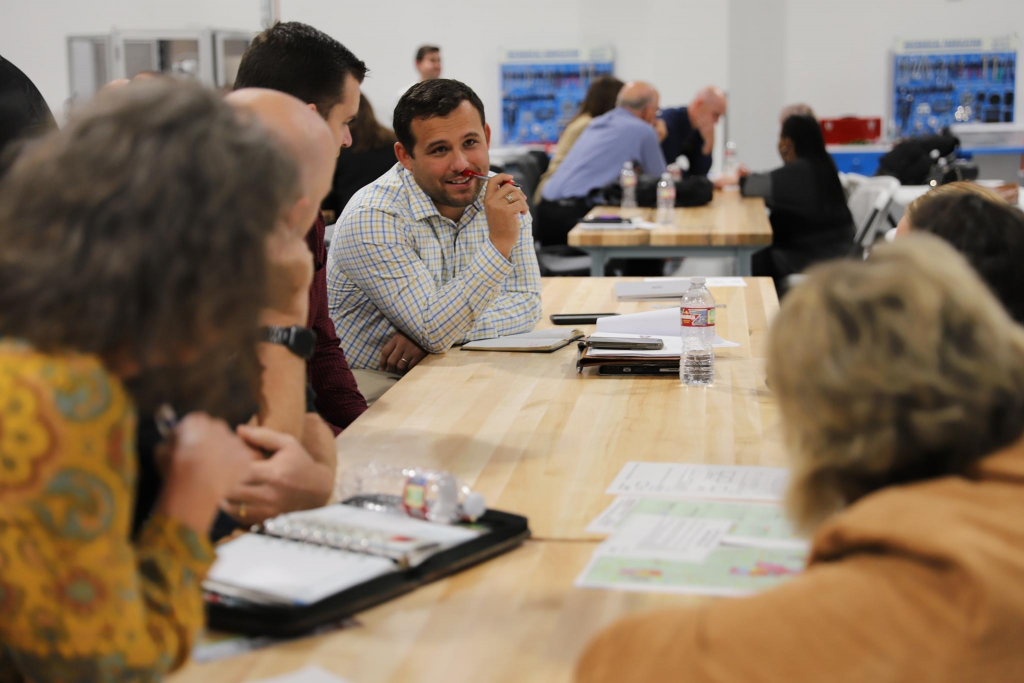 ---
Strengths Training 
CCED offers CliftonStrengths training and coaching workshops for communities, organizations, boards, and businesses. Our goal is to facilitate team and trust-building at the local level via CliftonStrengths training and coaching. We believe that the first step in creating change in our communities and organizations is to develop an understanding of one another so we can utilize our Strengths to facilitate positive growth. Learn more below.
FAQs
What is CliftonStrengths?
The CliftonStrengths assessment is a tool developed by educational psychologist Donald Clifton and The Gallup Organization. It helps individuals discover their top strengths and can help organizations improve culture and performance.
Why is it important to understand your Strengths?
An organization that operates with a strengths-based culture at its core can create real organic growth. Because when you get the best out of your people, you get the best out of your organization.
Organizations with strengths-based cultures succeed because:
They engage their employees.
They surround employees with managers who understand them to maximize their potential.
They provide an exceptional employee experience.
Organizations with strengths-based cultures experience higher employee engagement, retention, productivity, and performance.
What are the steps in identifying your Strengths?
Step 1: Take the CliftonStrengths Assessment
Step 2: Get Your Personalized CliftonStrengths Results
Step 3: Use Your CliftonStrengths to Succeed
What happens during the workshop?
The workshop will provide participants an in-depth understanding of what Strengths are, why Strengths are essential, and how to maximize Strengths to unlock your potential as well as the potential of your team. Participants will also participate in interactive activities to better understand their own strengths and those of their team. Workshops traditionally last two hours but can be customized to fit your needs.
If you are interested in a Strengths workshop for your organization or community? Please contact Shelby Fiegel at sfiegel@uca.edu.
---
Additional Training Opportunities
Additional training opportunities are offered on the campus of UCA throughout the year. The CCED will also work with communities or organizations to develop customized training programs.
Example training topics include:
Business Retention and Expansion Program Development
Community and Economic Development 101
Collaboration and Communication
Community Marketing
Community Assessment and Planning
Entrepreneurship
Infrastructure
Leadership
Quality of Life and Place
Workforce Development
Contact us to develop customized training for your community or organization. Please see the Events page for details about our events and other conferences and events throughout Arkansas.