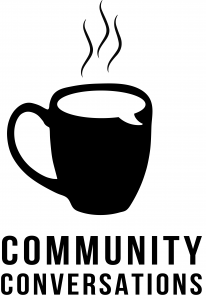 Raise your hand if you are experiencing Zoom fatigue!
To combat the lack of connection many of us are experiencing in a virtual world, in partnership with the Arkansas Economic Development Commission Community Development Division, the Arkansas State University Delta Center for Economic Development, and Entergy Arkansas, we created an ongoing series called Community Conversations to explore relevant community and economic development topics while having open conversations with one another. During Community Conversations sessions, you're encouraged to connect with your colleagues across the state and have meaningful discussions about what's going on in your community.
Community Conversations is on pause for this summer as our staff prepares for CDI 2021, but we plan to be back this fall to explore hot-topic issues in community and economic development! You can view examples of previous topics and videos of sessions below.
---
Cybersecurity with Dr. Stephen Addison
Tuesday, September 28 from 2 p.m. to 3 p.m. via Zoom
As we continue to move into the 21st century, cybersecurity is becoming an increasingly important consideration for organizations and governments to protect information. It's more important than ever for organizations and communities to have an online presence and being aware of the potential cybersecurity threats is a crucial step in ensuring your data is safe and protected from potential threats.
On this Community Conversations, we'll be joined by Dr. Stephen Addison, Dean of the College of Natural Sciences and Mathematics at the University of Central Arkansas, to hear more about cybersecurity and how communities can become more prepared for potential cyber threats. This is a free virtual event and registration is required.
---
Past Events:
Building Entrepreneurial Ecosystems
Tuesday, May 18 from 10 a.m. to 11 a.m. via Zoom
View the recorded presentation here.
Entrepreneurship is a crucial piece of community and economic development in our state. Entrepreneurs help drive positive change through innovation and are the backbone of our local economy. If you want to build an entrepreneurial ecosystem in your community or region, you don't have to do it alone.
During this Community Conversation session you will hear from and learn about several key organizations and individuals driving entrepreneurship across the state, including: the AR Conductor, Arkansas Economic Development Commission Minority and Women-Owned Enterprise Division, Arkansas Small Business and Technology Development Center (ASBTDC), Arkansas Small Business Administration, Main Street Arkansas, Startup Junkie,  and the University of Central Arkansas Minority Vendor Partnership Initiative.
---
Marketing Tips for Small Businesses
Tuesday, April 27 from 10 a.m. to 11:30 a.m. via Zoom
View the recorded presentation here.
The expert team at Retail Strategies believes "there's a lot of potential here" in your community. Retail Strategies exists to give communities across the United States an advantage in attracting businesses, supporting small businesses, and revitalizing the hearts of our communities, our downtowns. Join us as we host the experts at Retail Strategies to share tips and tricks to better assist small businesses in their marketing efforts. Following the tips from this workshop ensure your business's story and services are heard!
---
Braver Angels: Depolarizing Within
Tuesday, March 16 from 9 a.m. to 11:30 a.m. via Zoom
"Depolarizing Within" facilitated by Braver Angels taught attendees to foster skills to help lessen the effects of polarization when encountering them in political conversations. Note that by "polarization," the term is not referring to healthy disagreements over issues or philosophy; it refers to talking about how we regard and talk about large groups of ordinary people on the other side of the political aisle. Unfortunately, this session could not be recorded due to its immersive nature.
---
An Information Session with CED Organizations 
Tuesday, February 16 from 10 a.m. to 11 a.m. via Zoom
View the recorded presentation here.
Is your community or organization looking for community and economic development assistance? Look no further! In Arkansas there are a variety of organizations that can assist you and each one has a unique set of services they offer. "An Information Session with CED Organizations" highlights some of these community and economic development organizations across the state and their services.
Organizations that participated in this Community Conversations session include the Association of Arkansas  Development Organizations (AADO), Arkansas Economic Development Commission (AEDC), Arkansas Economic Development Institute (AEDI), Arkansas State University Delta Center for Economic Development (Delta Center), Communities Unlimited, Entergy Arkansas(Entergy), University of Arkansas Cooperative Extension Service (UAEX), University of Central Arkansas Center for Community and Economic Development (CCED) and the Community Development Institute (CDI), Winrock International (Winrock), and the Winthrop Rockefeller Institute (WRI).
---
Small Business Highlights
November 17 from 2:30 to 3:30 p.m. via Zoom
"Small Business Highlights" showcased small businesses across Arkansas that have continued to thrive during the COVID-19 pandemic. Each representative shared an overview of their business, how they have adjusted during the pandemic, any innovative or creative ways they are engaging and marketing to customers, any additional safety protocols they have in place to make shopping safe, and plans they have to keep momentum during the holiday shopping season. Those participating in the meeting included: Dog Ear Books (Russellville), The Perfects (Camden, El Dorado, and Magnolia), Me and McGee Market (North Little Rock), Kiss the Cook (Paragould), and Downtown Fort Smith (Fort Smith).
View the agenda here.
View the video presentation here.
---
Census 2020
September 10 from 3:00 – 4:00 p.m. via Zoom
The final day to complete the Census is September 30, 2020. Many of our communities still have severely undercounted areas. The overall Arkansas Census completion rate stands at 59.5% while the nation stands at 65.1%.
The second Community Conversations convening, "Census 2020," will cover information, resources, and success stories related to the 2020 Census. Hear from Arkansas Counts and community leaders who are finding innovative ways to engage citizens in the Census.
You can view the presentation HERE.
You can visit Arkansas Counts to learn more about how you can increase your count HERE.
---
How to Host a Virtual Meeting
August 26 from 2:30 – 3:30 p.m. via Zoom
"How to Host a Virtual Meeting" focused on tips and tricks for leading virtual meetings, how to create a positive virtual meeting experience, and informal small group discussions that will center on networking within the small groups, our experiences meeting virtually, biggest takeaways from the presentation, and other ways we can foster connectivity virtually.
You can view the video presentation (excluding the breakout sessions) HERE.
You can view Priya Parker's free virtual meeting guide HERE.
Community Conversations is presented in partnership with: