Purpose and Adherence to Law
The University of Central Arkansas honors Arkansas Act 1080 of 2017, entitled Minority and Women-Owned Business Economic Development Act, to include the participation of organizations owned and controlled by service-disabled veterans, certified women-owned, and all other minority businesses, in the purchase of goods and services. The law states that 15% of the total amount expended in state-funded and state-directed public construction programs and in the purchase of goods and services for state agencies each fiscal year is paid to minority businesses. The percentage breakdown is as listed below:
Ten percent (10%) for minority business enterprises with two percent (2%) allocated for service-disabled veteran-owned minority business enterprises; and eight percent (8%) for all other minority business enterprises; and
Five percent (5%) for women-owned business enterprises
Upcoming Events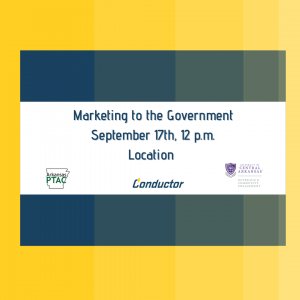 Marketing to the Government
Instructor: Tim Hicks
Arkansas Procurement and Technical Assistance Center (PTAC)
Friday, September 17, 2021
Noon – 1:00 p.m. CDT
ZOOM
Register in Advance on Eventbrite
Government entities purchase all kinds of goods and services, and your company could be their next vendor! In this session, Tim Hicks with the Arkansas Procurement and Technical Assistance Center (PTAC) will provide best practices for selling your companies' or organizations' goods and services directly to government buyers, including understanding what government buyers need and communicating your company's value proposition to them! In addition, we'll cover the role of certifications, vendor registration sites, market research sources, and marketing tools specific to the government marketplace.
Program Collaborators: Conductor, Arkansas PTAC and UCA Outreach & Community Engagement.
---
The Power of HOPE
Wednesday, October 6, 2021
Noon – 1 p.m. via ZOOM
FREE
Register Online 
Join Kimberly Lee and Charity Hallman to learn more about Hope Credit Union, its mission and pertinent information regarding their products and services afforded to small business owners.
Kimberly M. Lee is the Financial Inclusion Officer for Hope Credit Union's Arkansas Market.
Charity Hallman is the Vice President of Community and Economic Development in the Arkansas market for Hope Enterprise Corporation/Hope Credit Union (HOPE).
---
Building Sustainable Business Relationships
Wednesday, November 3, 2021
Pamela Reed, Minority Business Development Specialist, Arkansas Small Business Development and Technology Center (ASBTDC)
Noon – 1 p.m. via ZOOM
FREE
Register Online
Small businesses of color need more information about improving relationships, obtaining funding sources, and building customer loyalty. This workshop will help small businesses of color understand the importance of building relationships with customers, community stakeholders, and funding sources. Discussions will emphasize understanding and practicing strategies that build sustainable relationships, operating with integrity, and the benefits.
Throughout her career, Pamela Reed has demonstrated success in leadership development, previously in her role as a Consultant at Verizon Wireless and most recently in her role as a Minority Business Development Specialist at the Arkansas Small Business and Technology Development Center where she coordinates and facilitates entrepreneurial training. Pamela is particularly passionate about the work that she does in the entrepreneur community and demonstrates this passion by developing high-quality training programs. In addition, she regularly volunteers for organizations and community groups that enable her to connect entrepreneurs and potential entrepreneurs from culturally and financially diverse backgrounds to beneficial resources. Pamela holds an MBA from the University of Phoenix and a Masters of Arts in Professional and Technical Writing from UA Little Rock where she currently teaches Business Communications. Connect with Pamela on Linked In!
---
Helpful Resources
AR Small Business Technology Development Center
HOPE Credit Union – Community Development Finance Institution
Momentum: A Minority Women-Owned Business Accelerator (M3)
U.S. Small Business Administration – Arkansas 
Women's Foundation of Arkansas
Minority Vendor Partnership Initiatives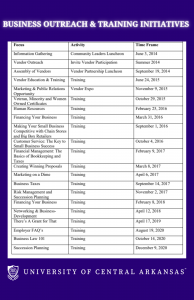 If interested in participating in UCA's Minority Vendor Partnership Initiatives, please forward an email to idi@uca.edu or call (501) 450- 3135.
Research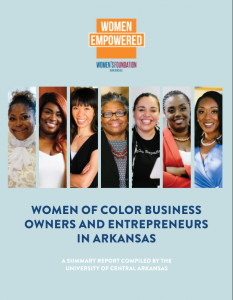 Women of Color Business Owners and Entrepreneurs in Arkansas
Conducting Business with UCA
For information and participation in UCA's bidding, negotiation, and award processes, please visit https://uca.edu/purchasing/current-bids/ or contact the Purchasing Office at (501) 450-3173 or (501) 682-6779 (Little Rock line).
Much success in your business endeavors.
Minority Vendor Partnership Initiative – Committee Members
Candice Barnes, Ph.D.
Kristy Carter
Shaneil Ealy, Ed.D.
Cassandra McCuien-Smith
Meghan Payne-Cowan
Reuel Shepherd
Angela Webster, Ph.D., Chair