The award-winning Minority Vendor Partnership Initiative (MVPI) at the University of Central Arkansas (UCA) was established in 2014 to provide educational and networking opportunities to minority, disabled veteran, and women-owned businesses.
Adherence to the Law
The University of Central Arkansas honors Arkansas Act 1080 of 2017, entitled Minority and Women-Owned Business Economic Development Act, to include the participation of organizations owned and controlled by service-disabled veterans, certified women-owned, and all other minority businesses, in the purchase of goods and services. The law states that 15% of the total amount expended in state-funded and state-directed public construction programs and in the purchase of goods and services for state agencies each fiscal year is paid to minority businesses. The percentage breakdown is as listed below:
Ten percent (10%) for minority business enterprises with two percent (2%) allocated for service-disabled veteran-owned minority business enterprises; and eight percent (8%) for all other minority business enterprises; and
Five percent (5%) for women-owned business enterprises
---
Current Events
small investments = BIG RETURNS
Virtual Lunch and Learn with Travena Jefferson
Tuesday, April 25, 2023| noon-1pm | ZOOM
Here is your opportunity to work with financial growth guru, philanthropist, and serial entrepreneur 
Travena
Jefferson
, to learn ways to build wealth using simple, proven methodologies that will help individuals and small business owners grow their net worth. This workshop is open to anyone looking to invest in their future. Topics include the fundamentals of real estate investing. Students are welcome.
About Travena
Travena
Jefferson
 is a serial entrepreneur with over 20 years of experience in wealth generation through real estate investing. She teaches everyday, run-of-the-mill people how to build peace of mind through smart investment practices and strategies with very little money. Ms. 
Jefferson
 is the owner of Northern Technical College in North Little Rock, Arkansas, along with other beauty and barber schools, and a real estate investor in commercial and residential properties. She holds a BS in Biology and an MS in Environmental Science. 
Travena
 invests in the lives of others through her outpouring of generosity, outreach to the community, and investment coaching through her nonprofit organization
Communities United Together
.
---
Past Events
Wantrepreneur to Entrepreneur
with Shunqetta Cunningham
From Wantrepreneur to Entrepreneur is a workshop focusing on taking the big leap that ignites startup and early entrepreneurs to act like CEOs of the business. This workshop will help early entrepreneurs shift mindsets and actions to set the culture of their businesses, teach leaders how to establish the systems that make it easier to operate their businesses, and ways to cultivate power connections that will accelerate business growth to the next level.
Shunqetta N. Cunningham is the CEO and Lead Grant Strategist of KHARIS Group and the
Nonprofit Summit of Northeast Arkansas Founder and Chairwoman. Shunqetta leads her
company on the platforms of community impact, intentional leadership, and maximizing
results for high impact. KHARIS helps nonprofit and for-profit clients develop the intentional
strategy, opportunity, and transformation required to succeed in their organizations. From
grant writing, research, board training, nonprofit development, and business planning,
KHARIS is a resource service hub for social impact entities.
---
How to Conduct Business with UCA
Cassandra McCuien-Smith
UCA Director of Procurement, Construction, Travel and Card Services
Learn everything that you've always wanted to know about how to conduct business with UCA! Join Cassandra McCuien-Smith, Director of Procurement, Construction, Travel and Card Services for more information on topics such as vendor registration for bid opportunity notifications, Arkansas Procurement Law & Public Works Law Highlights, Awarded A Contract? What's Next?, and Forms, Forms and More Forms.
Cassandra McCuien-Smith, Director of Procurement, Construction, Travel and Card Services, holds dual certifications as a certified professional public buyer and certified public procurement officer.  She previously worked as a Buyer for the private sector for seven years, before landing her perfect job with her alma mater in 1991.  She has worked for the University of Central for thirty years.  She has had the privilege of serving the Arkansas Chapter of the National Institute of Governmental Purchasing in the capacity of legislative liaison, board member, secretary and president.
---
Financiando Tu Negocio (Financing Your Business)
Sandra Carrasco Quezada, Director of Latinx Business Development, Forge Community Loan Fund
Spanish: Forge Community Fund presenta las diferentes alternativas de financiamiento disponibles para iniciar y hacer crecer su negocio. Forge es una organización sin fines de lucro que brinda a los emprendedores acceso a capital y una amplia gama de soluciones comerciales. ¡Regístrate a nuestro semanario para aprender cómo podemos ayudarlo a forjar su future!
English: The Forge Community Fund is presenting the different financing alternatives available to start and grow your business. Forge is a nonprofit that provides entrepreneurs with access to capital and a broad range of business solutions. Join us to learn how we can help forge your future!
— Bio – SP
Originaria de Chihuahua, México, Sandra ha vivido en los Estados Unidos por más de 14 años. Obtuvo una licenciatura en Ingeniería Industrial de la Universidad de Arkansas y ha pasado años en roles multifuncionales que van desde operaciones, ingeniería, finanzas y análisis. Es la cofundadora de Bites & Bowls, una de los lugares favoritos de los residentes del noroeste de Arkansas. Actualmente, trabaja como directora de Desarrollo de Negocios Latinx para el Fondo Forge, ayudando a los pequeños propietarios a obtener acceso a capital. A través de su experiencia como inmigrante, está comprometida a ayudar a otros a tener éxito. Cuando no está trabajando, disfruta pasar tiempo con su esposo, Sina, y su hijo, Jahangir.
— Bio – EN
Originally from Chihuahua, Mexico Sandra has lived in the US for over 14 years. She earned a bachelor's degree in Industrial Engineering from the University of Arkansas and has spent years in cross-functional roles ranging from operations, engineering, finance, and analytics. She is the co-founder of Bites & Bowls a locals' favorite in Northwest Arkansas. Currently, she works as the director of Latinx Business Development for the Forge Fund, helping small owners obtain access to capital. Through her experience as an immigrant, she is committed to helping others succeed. When she is not working, she enjoys spending time with her husband, Sina, and their son, Jahangir.
---
Helpful Resources
AR Economic Development Commission – Minority & Women-Owned Business Enterprise
AR Small Business Technology Development Center
HOPE Credit Union – Community Development Finance Institution
Momentum: A Minority Women-Owned Business Accelerator (M3)
U.S. Small Business Administration – Arkansas 
Women's Foundation of Arkansas
Minority Vendor Partnership Initiatives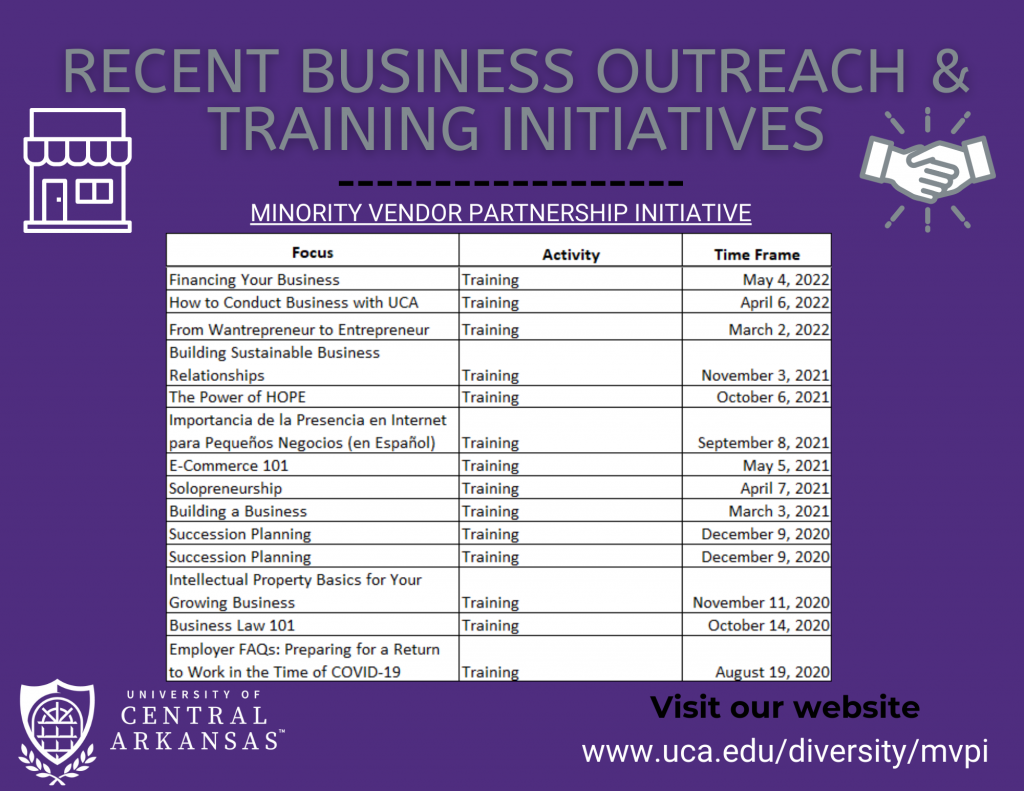 If interested in participating in UCA's Minority Vendor Partnership Initiatives, please forward an email to idi@uca.edu or call (501) 450- 3135.
Research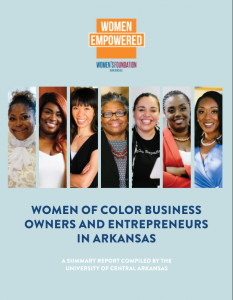 Women of Color Business Owners and Entrepreneurs in Arkansas

Conducting Business with UCA
For information and participation in UCA's bidding, negotiation, and award processes, please visit https://uca.edu/purchasing/current-bids/ or contact the Purchasing Office at (501) 450-3173 or (501) 682-6779 (Little Rock line).
Much success in your business endeavors.
Minority Vendor Partnership Initiative – Committee Members
Candice Barnes, Ed.D.
Kristy Carter, Ph.D., Chair
Cassandra McCuien-Smith
Meghan Payne-Cowan
Reuel Shepherd
Angela Webster, Ph.D.