Department of Music
 

Join us November 5th as the Department of Music delights your senses
with a night of food, drink, music, and dance!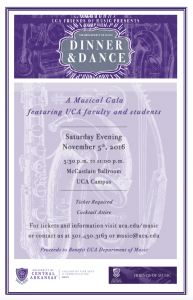 PROGRAM
5:30 – Silent Auction & Gathering
6:00 – Seating & Piano Music
6:15 – Dinner
Scrumptious Salad & String Selections
Dynamic Dinner & Pithy Piano 
Delectable Dessert & Opulent Opera Scenes
7:15 – Coffee & Combos featuring Formula 251 Jazz Combo
7:45 – Silent Auction Close 
8:00 – Jazz Dance featuring
UCA Dixieland Band, 
Jazz Band I,
and Jazz Band II
SILENT AUCTION ITEMS
Vivian Griffith… artist V.Noe 12×12 original 

painting

 of UCA bear face "I Won't Budge." It is the last one of that series of 20. 
Artist Steve Griffith…11×9 Limited edition framed Santa print " Naughty or Nice" 
CFAC Dean, Terry Wright…original artwork
Amro Music…Steinway coffee table collector book with Neil Rutman (Steinway Artist) personalized signature
Amro Music…Professionally painted "UCA-themed" violin
Opera in the Rock…Two tickets for The Barber of Seville (May 19th at 7:30 pm or May 21st at 3:00 pm)
Neil Rutman…Piano lessons for a month
Neil Rutman…Boxing lessons
Neil Rutman…Home entertainment with a night of piano selections
Conway Symphony Orchestra…CSO Fan Pack (2 "Gold Seating" season tickets, 2 t-shirts, CSO Guild cookbook, bag, & pencils)
Click here to purchase tickets
$50 per adult ticket (full event)
$500 per premiere reserved table (full event)
$20 per adult ticket (dance only)
$15 per student ticket (dance only)
---
UCA receives $250,000 gift in support of the arts
The University recently received a $250,000 gift for the music department which moves UCA closer to becoming an All-Steinway campus.  The donation allowed for the purchase of four new Steinway practice pianos, an East Indian Rosewood grand piano and a multitude of other instruments and equipment. Read more
Watch the UCA Bear Tales video below which recaps this exciting development.
About the Music Department
The UCA Department of Music is an artistic community of over 200 music majors who participate in over 25 different student ensembles, ranging from the Bear Marching Band to the Conway Symphony Orchestra, our award-winning Concert Choir, and our student chamber ensembles. Our ensembles have traveled to Spain, Japan, England, Italy, China, and Austria within the last five years, showcasing our students on an international stage. With a faculty of 38 talented artist-teachers, who have studied at the most prestigious universities and conservatories in the world, every student has the opportunity to grow into a world-class artist.
Recently, UCA has played host to the National Symphony Orchestra, has commissioned an original opera, The Scarlet Letter, and has brought in world-class artists such as the Brentano String Quartet, the St. Lawrence String Quartet, Pancho Sanchez and his Latin Jazz Band, clarinetist Eric Mandat, Pulitzer Prize-winning composer Karel Husa, the Washington Sax Quartet, Wynton Marsalis and the Lincoln Center Big Band, tubist Sam Pilafian, the Meridian Arts Ensemble, Paul Hillier and Theater of Voices, and the Dirty Dozen Brass Band.
The Department of Music plays an integral role in the local community of Conway. With our Community School of Music, which enrolls over 350 students every year, our partnerships with the Conway ArtsFest and Conway Symphony Orchestra, and our countless faculty performances in the Central Arkansas region, one could say that we are the "Center of the Arts" for Arkansas. If you would like to support our department and programs click here for more information.
Please take a moment to check out our website. And don't hesitate to send an email to the music faculty in your area of specialization. We'd love to hear from you!

Faculty, Staff and Students
Please click here if you are looking for the Snow Advisory survey. If you need help accessing the survey please call (501) 450 – 3163.