Purchase any projectors through the UCA contracts detailed below. Please do not purchase projectors through other sources such as Best Buy, Office Max, Amazon, or GSS. In order to expedite tech support and lamp replacement, UCA IT only supports the purchase of a few selected projector models.  The supported projector models are changed regularly when the manufacturer stops producing them (end of life or "EOL") or when they are no longer available from our vendor.  The following are currently the only projector models UCA IT supports the purchase of. All prices below are estimates.  Updated July 24, 2023.
Note: Neither projector listed below is necessarily "better" than the other.  They are priced the same and the primary difference between them is aspect ratio (width-to-height ratio, 4:3 vs 16:10).  Which one you should choose depends on a few factors:
The aspect ratio of your computer monitor
The size and aspect ratio of your existing projection screen
Depth of the room (distance from the screen to the furthest seat)
If you have a widescreen monitor and a large projection screen with good seating distance, the widescreen projector is a smart choice.  But because a widescreen (16:10 or 16:9) projection screen is a little bit shorter in the vertical dimension compared to a 4:3 one, smaller fonts can be more difficult to read on them, particularly from the back of the room.  Consider increasing the font size you use for your presentations, especially for "deep" rooms.
If you have an older 4:3 monitor and your existing projection screen is square or almost square, it might be better to stick to a 4:3 image format to maximize the viewing area and match the image on your monitor more closely.
Or you might also consider upgrading your monitor if a widescreen projector or TV really seems like the right fit for your room.  If you need help or have any questions, contact A/V Services at 450-5222 or email avservices@uca.edu.
NOTE: If you are mounting this projector on a ceiling and there is no existing cabling or mounting hardware where you intend to mount it, cabling and mounting hardware will need to be installed by the university contractor at the department's expense. If there is already existing cabling and mounting hardware, it may be necessary to replace the cabling and/or mounting hardware for compatibility. IT will make that determination based on the particulars of the room — whether existing hardware is compatible, newer non-VGA equipment that needs to be connected to the projector (PC, Apple TV), futureproofing, etc. Before purchasing, consult with IT's A/V Services department so we can make sure everything will work correctly.
NP-ME453X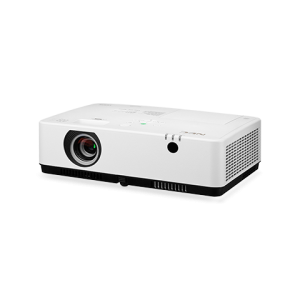 NP-ME453X
Featured Specifications
Native resolution: XGA (1024 x 768) (4:3)
Brightness: 4500 lumens
Contrast ratio: 16,000:1
Inputs: 2 HDMI, 1 RGB/VGA
Lamp life: up to 10,000 hours normal mode (20,000 hours eco mode)
16W speaker
Price: $859.00, including shipping
NP-ME423W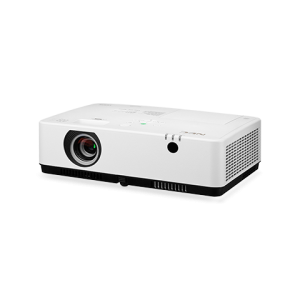 NP-ME423W
Featured Specifications
Native resolution: WXGA (1280 x 800) (16:10)
Brightness: 4200 lumens
Contrast ratio: 16,000:1
Inputs: 2 HDMI, 1 RGB/VGA
Lamp life: up to 10,000 hours normal mode (20,000 hours eco mode)
16W speaker
Price: $859.00, including shipping
Lamps
Replacement lamps
Model number: NP47LP
Works with both models (NP-ME453X and NP-ME423W)
Price: $111.00, including shipping
Vendor Information
Vendor: Online Technologies
Vendor Number: B00800612
Document Text Information: Important: Include the following number in your document text for reference.
State Contract # SP-19-0048
Contact
Stephen Dively
stephend@onltech.com
501-224-3906