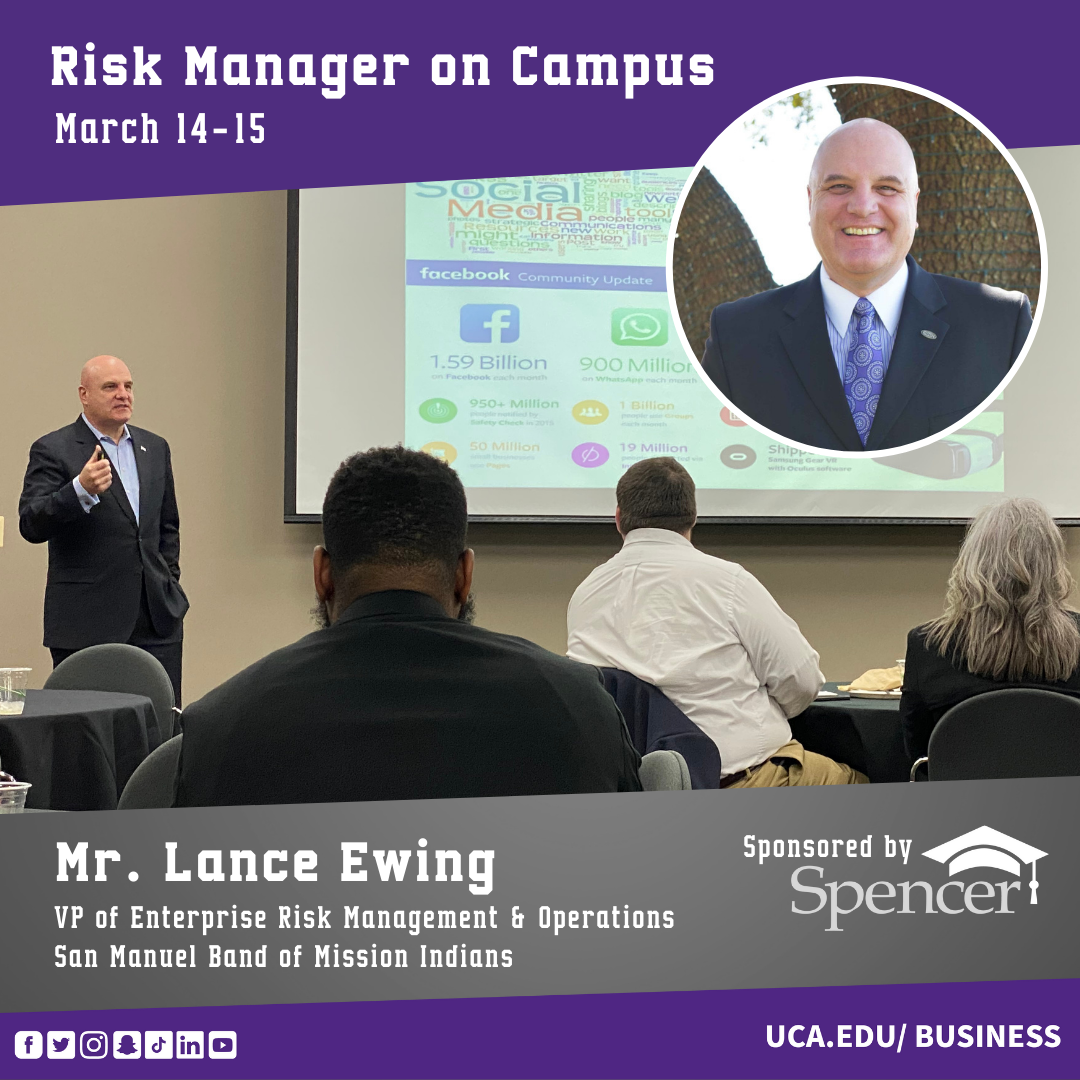 On March 14, the
UCA Center for Insurance and Risk Management
welcomed Risk Manager on Campus, Mr. Lance Ewing, by giving him a very busy schedule. Mr. Ewing is here to share his experience from years in the industry with industry professionals and UCA students about existing risks, emerging risks, safety and motor carrier policies, employee benefits, and corporate risk management. Before he leaves on Tuesday, he will have spoken to five classes, one student organization, at a luncheon and to a dinner party.
Mr. Ewing has extensive experience in the field of risk management and insurance. He currently serves as the VP of Enterprise Risk Management and Operations for the San Manuel Band of Mission Indians. Previously Lance was EVP of Global Risk Management for Cotton Holdings and, prior to that, VP and Industry Practice Group Leader at AIG.
Before this Lance served in senior 
risk
 management capacities for Ceasars Entertainment, GES Exposition Services/VIAD and for the City of Philadelphia School District. He also worked for insurance companies including Lumbermen's Underwriting Alliance, Pennsylvania Hospital Insurance Company (PHICO) and New York Lumberman's Insurance Trust in 
risk
 management and 
risk
 control capacities. He was also President of three Captive Insurance Companies.
In 2003-2004 Lance was National President for the 
Risk
 & Insurance Management Society (RIMS) and was also the Chief 
Risk
 Officer. He teaches 
risk
 management as a faculty member for the National Alliance for Insurance Education & Research. He serves on the University of Mississippi Business School (
Risk
 Management) Advisory Board, where an endowment was created "Ewing Endowment for Business Excellence in 
Risk
 Management and Insurance".
Mr. Ewing's visit was sponsored by the Spencer Educational Foundation, a non-profit organization dedicated to supporting the next generation of Risk Management and Insurance leaders through scholarships, internship grants, funding for experiential learning opportunities, and the Risk Manager on Campus program.