Residencies bring professional performing and visual artists, composers, creative writers, and filmmakers to the UCA campus for one or more days for the purpose of expanding student learning experiences. They offer the general student body exhibits, lectures, performances, readings, and screenings that enlarge awareness and appreciation of the arts, and provide students participating in the arts with master classes, presentations/discussions, and workshops that enhance understanding and professionalism.
The UCA Artist in Residence program is funded by the UCA Student Arts Fee. At UCA, we believe that a rich and vibrant arts culture is valuable and necessary to the education of all students, regardless of major or background. All events are located on the campus of the University of Central Arkansas, 201 Donaghey Ave., Conway, AR 72035, unless otherwise specified. All events are free to UCA students and open to the public (no reservations/tickets are required unless otherwise specified).
SPRING 2023
---
FABIOLA JEAN-LOUIS | paper sculpture | JAN. 12 – APR. 26
Fabiola Jean-Louis (b. 1978, Port Au Prince, Haiti) is known for her work that examines the intersectionality of the Black experience and addresses the absence of historical representation of BIPOC women. Her series Rewriting History (2017), consisting of wearable 18th-century-inspired paper gowns, photographs, and Polaroids, was purchased in 2021 by University's Beinecke Rare Book and Manuscript Library for its James Weldon Johnson Memorial Collection of African American Arts and Letters collection. Also, in 2021, the Metropolitan Museum of Art commissioned a paper dress for a two-year exhibition "Before Yesterday We Could Fly: An Afrofuturist Period Room." Jean-Louis will be creating her next major body of work on the UCA campus titled "The Roots of Freedom," which will comprise a life-sized mausoleum made of paper clay and contain figures made from sheet paper referencing the spirits of those who fought for their freedom during the Haitian Revolution (1791-94).
Artist Talk: Fabiola Jean-Louis and Tawny Chatmon in Collaboration, The Roots of Freedom
Apr. 20, 2023 | 7:30 pm | Art Lecture Hall, Windgate Center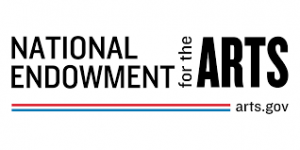 This project is supported by the National Endowment for the Arts and the Arkansas Arts Council, an agency of the Department of Arkansas Heritage.
---
HIDEAKI TSUSTUI | lighting design | MAR. 28-31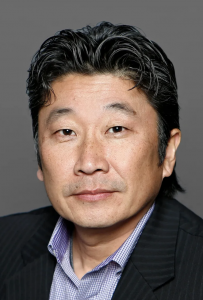 Hideaki Tsustui has designed lighting for numerous artists and productions including Lantern Floating for Peace at the Lincoln Center; Garth Fagan's Thanks 40 at the Joyce Theatre; Osvaldo Golijov's Las Pasión Según San Marcos (national tour); Moscow Circus (US tour); Sweeney Todd at Madison Opera (Madison, WI); and Gravity Radio at New York's Brooklyn Academy of Music. He was also invited to light the 20th Anniversary Dance Gala for the Virginia Arts Festival, which included such dance companies as the American Ballet Theatre, Birmingham Royal Ballet, Tokyo Ballet, and many others. Tsutsui has also provided lighting design for 100 corporate events, concerts, and television shows including Kevin Hart Live, Cindy Lauper, IBM, Herbalife, New York Life, Intuit, APEC Conference, PBS Hawaii, and General Motors. During his UCA residency, he will provide lighting for The Curious Incident of the Dog in the Nighttime, a play by Simon Stephens.
Master Class: "What is Lighting Design? How to Tell a Story Through Lights"
Mar. 28, 2023 | 1:40-2:30 pm | James M. Bridges Black Box Theatre, Windgate Center
Class Visit: Professional Issues in Theatre
Mar. 29, 2023 | 9:25-10:40 am | Snow Fine Arts Black Box
Public Presentation: "A Life of Lighting Design"
Mar. 31, 2023 | 7:30 pm | James M. Bridges Black Box Theatre, Windgate Center
Opening Night Performance: The Curious Incident of the Dog in the Nighttime, a play by Simon Stephens with lighting design by Hideaki Tsutsui*
Apr. 6, 2023 | 7:30 pm | Black Box Theatre, Windgate Center
*Students may receive up to 2 complimentary tickets by bringing their student ID to the box office at Reynolds Performance Hall or Windgate Center
---
KIM CHI | fashion design and tv personality | APR. 6-7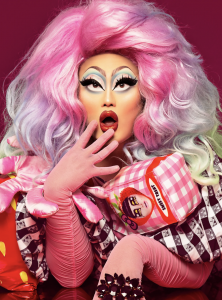 Kim Chi, born Sang Young Shin, is a Korean-American artist and entrepreneur who owns Kim Chi Cosmetics. Born in the U.S. and raised in Korea, Kim Chi studied graphic design in college before moving into fashion design, painting, and sculpture. Kim Chi gained international notoriety in 2016 for competing on the eighth season of RuPaul's Drag Race, finishing in the top three. She was the first Korean-American drag artist on American national television and now has 1.9 million followers on Instagram. About her love of art, she writes on her website, "I realized drag was the medium where I could mold my love and knowledge of art, painting, fashion, and photography into one vessel. I believe your face is a canvas to create art. Whether it's subtle or out of this world, makeup can elevate the way you feel about yourself. With the right mug, I feel invincible and confident!"
Make-up Tutorial and Informal Conversation with Students
Apr. 6, 2023 | 1:30-3:30 pm | Keystone Steps, Windgate Center
An Evening with Kim Chi
Apr. 7, 2023 | 7:30 pm | Reynolds Performance Hall
---
TAWNY CHATMON | photography-based mixed media | APR. 18-20
Tawny Chatmon is a photography-based artist residing in Maryland. In 2010, after photographing her father's battle with cancer, she changed from commercial photography to art photography as a way for her work to serve a higher vocation. Chatmon takes a multi-layered approach to her process by overlapping her digital photographs with collage, 24-karat gold leaf, and materials such as paper, semi-precious stones, glass, and other mixed media. As a Black woman and mother of three Black children, she is motivated to "leave something important behind" for the world her children will grow up in, while creating imagery that celebrates and honors the beauty of Black childhood and familial bonds. Her work also addresses, at times, the absence and exclusion of the Black body in Western art. Chatmon is one of eight African American artists featured in the 2022 Venice Biennale exhibit The Afro-Futurist Manifesto: Blackness Reimagined. She is currently collaborating with Fabiola Jean-Louis on The Roots of Freedom project.
Class Visit: Special Topics in Art
Apr. 18, 2023 | 2:40-5:20 pm | Cogdell-Penny Sculpture Studio, Windgate Center 116
Artist Talk with Tawny Chatmon and Fabiola Jean-Louis
Apr. 20, 2023 | 7:30 pm | Lecture Hall, Windgate Center
---
KRISTIN LEWIS | opera | APR. 13-22
Kristin Lewis, a lyrico-spinto soprano, has graced the stages of many of the world's leading opera houses. Noted for her well-focused, majestic sound, rich in overtones, and rare blend of piano culture, she has been directed by and among the most illustrious conductors. A native of Little Rock, Lewis grew up in a musical family and began singing and performing at an early age. She received a Bachelor of Arts degree from the University of Central Arkansas under the guidance of Dr. Martha Antolik and a Masters of Music degree while studying with Kay Paschal and Andrew Wentzel from the University of Tennessee at Knoxville. Post graduate study was endeavored under the tutelage of Dr. Janathan Retzlaff, and currently with Carol Byers. Lewis resides in Vienna, Austria. Her dedication to her calling of opera performance, her passion in humanitarian work, and her commitment in leveraging resources for young, talented artists encapsulate her image as a global ambassador of the arts, culture, and philanthropy.
Class Visit: Concert Choir Rehearsal with all choirs
Apr. 12, 2023 | 2:00-2:50 pm | Adcock Seminar Room (106), Snow Fine Arts
Class Visit: MUS 1000 "Leading an Artist Life in Opera"
Apr. 13, 2023 | 1:40-2:30 pm | Recital Hall, Snow Fine Arts
Vocal Master Class I
Apr. 14, 2023 | 12-12:50 pm | Recital Hall, Snow Fine Arts
Vocal Master Class II
Apr. 19, 2023 | 12-12:50 pm | Recital Hall, Snow Fine Arts
Conway Symphony Orchestra Dress Rehearsal 
Apr. 21, 2023 | 7-10 pm | Ricky Brooks Rehearsal Hall, Snow Fine Arts 
Conway Symphony Orchestra Dress Rehearsal 
April 22, 2023 | 2:00 pm | Reynolds Performance Hall
Conway Symphony Orchestra in Concert featuring Kristin Lewis*
Apr. 22, 2023 | 7:30 pm | Reynolds Performance Hall
*For tickets, please contact the Reynolds Box Office, 501-450-3265, M-F, 10 am – 4 pm