College of Arts, Humanities, and Social Sciences
CAHSS NEWS

The mission of the College of Arts, Humanities, and Social Sciences is to provide learning opportunities for UCA students while engaging the community through artistic performance, professional support, and research. We employ high-impact teaching practices to develop creativity and knowledge, equipping the next generation of artists, scholars, and leaders for lifelong intellectual and personal growth. We enrich the community through diverse explorations of cultures, academic disciplines, languages, and viewpoints. We commit to collaboration, communication, and inclusion.
CAHSS Effects Newsletter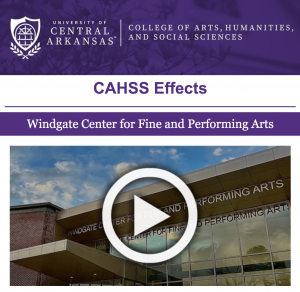 ---
Name Your Seat at Windgate!
Visit https://uca.edu/seatcampaign for more details.

---
High Impact Residencies
Take a look at the wonderful impact that Artist in Residence, Sue Schroeder from Core Dance, Atlanta had on the Arkansas College of Health Education's School of Occupational Therapy and Bost, Inc.
Quoined Corner Information
Watch to learn more about QC from our CAHSS students!
The College of Arts, Humanities, and Social Sciences invites students to submit abstracts for consideration in the 2023 Quoined Corner, which will consist of both YouTube video presentations and live presentations. The Google submission form, with an abstract of 250 words or less, is due by March 10th. Read more here.
---
2021-2022 Year in Review