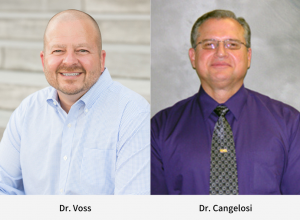 UCA Management Professor Dr. Doug Voss and Marketing Professor Dr. Joe Cangelosi recently released their findings from a new survey entitled, "Comparing Hair V. Urine Test Effectiveness: Trucking Alliance 2021 Pre-Employment Data," which examines the differences between hair and urine drug test results, using a sample of 172,632 pre-employment hair and urine drug screens that were administered in 2021.
See the report |  Read the News Release
The results showed that hair testing is a more effective method to detect the regular use of hard drugs and drug users than the US Department of Transportation (DOT).
The US Department of Transportation classifies truck driving as a safety-sensitive occupation. For this reason, federally regulated operators of commercial vehicles are required to pass a pre-employment drug test. Urine testing is the primary, federally accepted method. Trucking Alliance carriers supplement DOT urinalysis by requiring drivers to also pass a hair drug test. Hair testing is reliable and accurate due to its longer look-back period to identify regular drug use.
In 2021, 88,021 licensed truck drivers applied for jobs at seven Trucking Alliance member trucking companies. The USDOT required drivers to take both urinalysis and a hair drug test. Here were the results:
Four-thousand three-hundred sixty-two (4,362) applicants failed hair tests whereas four-hundred three (403) failed urine.
If participating carriers did not use hair testing, they likely would have hired three-thousand four-hundred four (3,959) drivers that failed hair tests. It is likely these individuals are now driving for another carrier, given hair testing results cannot be submitted to the drug and alcohol clearinghouse.
Hair testing delivered 11x (5.16%/0.46%) higher overall positivity rate, more frequently detected every drug class, and better detected hard drugs such as cocaine, amphetamines/methamphetamines, and opioids.
"Hair tests uncover 11 times more drug users than a urinalysis but the marked difference in positive cocaine, amphetamine/methamphetamine, and opioid tests is most troubling," observes Dr. Doug Voss at the University of Central Arkansas, who conducted the survey. "These results underscore the inability of urinalysis alone to remove hard drug users from the truck driver population."
Because USDOT's Clearinghouse doesn't accept hair test results, those four-thousand three-hundred sixty-two (4,362) drivers are likely still driving 80,000-pound tractor trailers for other companies, even though the Trucking Alliance companies disqualified them.
The news release announcing these results stated that "the Trucking Alliance has formally requested USDOT's trucking agency – the Federal Motor Carrier Safety Administration – to include positive hair tests on the agency's list of 'actual knowledge' of a truck driver's drug use. If granted, these positive hair test results will be submitted to the Drug and Alcohol Clearinghouse and the names of those drivers will be known by other employers." Read more about the pros and cons of this application.
The data was independently provided by J.B. Hunt Transport, Knight-Swift Transportation, Schneider, Maverick USA, KLLM/FFE Transportation Services, US Xpress, and Cargo Transporters. All 50 states+DC are represented in the sample.