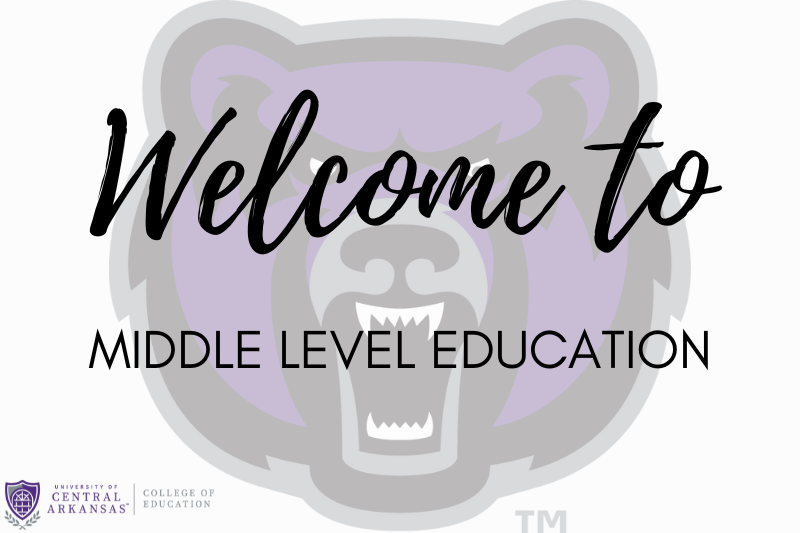 The transitional years between childhood and adolescence are critical to a child's development. If you're interested in teaching students in grades 4-8, the Middle Level Education major at the University of Central Arkansas can prepare you with the knowledge, skills, and initial experiences you'll need to begin impacting the lives of middle grades students. Your degree will prepare you to begin your career as a middle level classroom teacher and/or enter graduate and professional programs. In Arkansas an initial certification in middle level education (4-8) offers the flexibility to test up or down into other grades and subjects.
Middle Level Education:
Program Coordinator:
Mashburn 104
Mr. Steve Ward
University of Central Arkansas
Phone: 501.450.5848
201 Donaghey Avenue
Conway, AR 72035
wards@uca.edu
There are six Bachelor of Science in Education (BSE) degree tracks offered through the Middle Level Education major at UCA. All teacher education programs at UCA include a set of program admission requirements, and Middle Level Education majors must successfully complete two Praxis subject assessments. For more information about the degree tracks, program admission, and the required Praxis exams, select the links below.
The undergraduate Middle Level Education program at the University of Central Arkansas is proud to be accredited by the Association for Middle Level Education and an approved awareness pathway in knowledge and practice of the Science of Reading.
Act 1063 of 2017, the Right to Read Act states: "By the beginning of the 2021-2022 school year: A) All teachers employed in a teaching position that requires an elementary education (K-6) license or special education (K-12) license shall demonstrate proficiency in knowledge and practices of scientific reading instruction; and B) All other teachers shall demonstrate awareness in knowledge and practices of scientific reading instruction.
While we welcome any out of state candidates, completion of any program, other than an initial licensure program, may not lead to licensure or endorsement in Arkansas or in the state in which you reside. It is your responsibility to check with your state's department of education to determine if the license or endorsement requirements are met through the program of study. If you are a potential out of state candidate, please contact the program coordinator directly. If you have any questions please feel free to contact the Program Coordinator, Steve Ward.
Information for Current Students:
Advising – Middle Level Education Candidates should be advised every semester prior to registration. As a general rule, it is a good idea for students to contact their advisor 2-3 weeks prior to registration. For registration information, monitor the Office of the Registrar for the Advanced Registration Schedule. The Schedule of Classes is usually updated 2-3 weeks prior to advanced registration.
DegreeWorks – Review DegreeWorks quarterly. This ensures the candidate stays on track to complete the program.
Program of Study – This page may be used to assist the candidate in planning their course of study. (Undergraduate Bulletin)