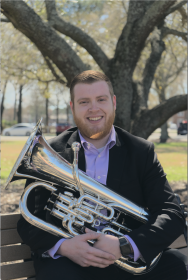 Cole Cavanah
Administrative Specialist III & Adjunct Instructor - Euphonium
SFA 103
(501) 450-5750
Cole A. Cavanah is the Administrative Specialist III and Adjunct Euphonium Instructor at the University of Central Arkansas. Cole holds an M.M. Degree in Euphonium Performance from UCA where he studied under Dr. Gail Robertson and was the Graduate Assistant for the Jazz Area and the Tuba/ Euphonium studio. During his time at UCA, Cole performed with the Wind Ensemble, Tuba/Euphonium Ensemble, Traditional Jazz Ensemble, numerous competing chamber ensembles, and was the co-director of the Jazz Ensemble I. He also holds a B.M. Degree in Euphonium Performance from Morehead State University where he studied under Dr. Stacy Baker, and also studied trombone with Dr. Nathan Dishman. Cole has performed alongside musicians such as Brian Bowman, Earle Louder, Vardan Ovsepian, Wayne Bergeron, Vince DiMartino, and others.
During his time at UCA, Cavanah performed, competed, and presented at a number of conferences, including the International Women's Brass Conference, Southwest Regional Tuba Euphonium Conference, and the U.S. Army Band "Pershing's Own"  Tuba/Euphonium Workshop. In addition to performing, Cole is also an academic that enjoys researching and writing about new music. His review of Barbara York's Talking to Myself was published in the Summer 2019 (vol. 44, no. 4) issue of the International Tuba Euphonium Association Journal. 
Cavanah resides in Conway, AR. with his amazingly supportive wife, Melissa, basset hound, Yogi, and cat, Shostakovich.