Instructors can quickly create online courses using the UCA Online Interface. This Interface, or template, reflects several best practices in online course design and reduces the amount of prep time instructors spend in creating a course. Using a modular organization, course materials and activities are contained within weekly content folders. This suggested organization and naming conventions for each content folder provide a better user experience. Additionally,  the Interface includes a module containing resources and activities focused on student support and success in the online learning environment.
Instructors are encouraged to use the Interface as starting point for course design, focusing their efforts on creating engaging content and activities for the best learning experience.
Take a look:
Watch a video course tour!
View the snapshots!
---
Instructions for Importing the UCA Online Interface

STEP 1: Download the UCO_V2.3 export file. Note: This link will take you to a shared in a folder in Google Drive. Select/highlight the export file title, then click on the More Options icon. From the drop-down menu, select Download. NOTE: Do not unzip the file!  
STEP 2: Go to your course in Blackboard where you want to use the Online Interface. Under the Control Panel menu, expand Packages and Utilities. Then, click on Import Package/View Logs.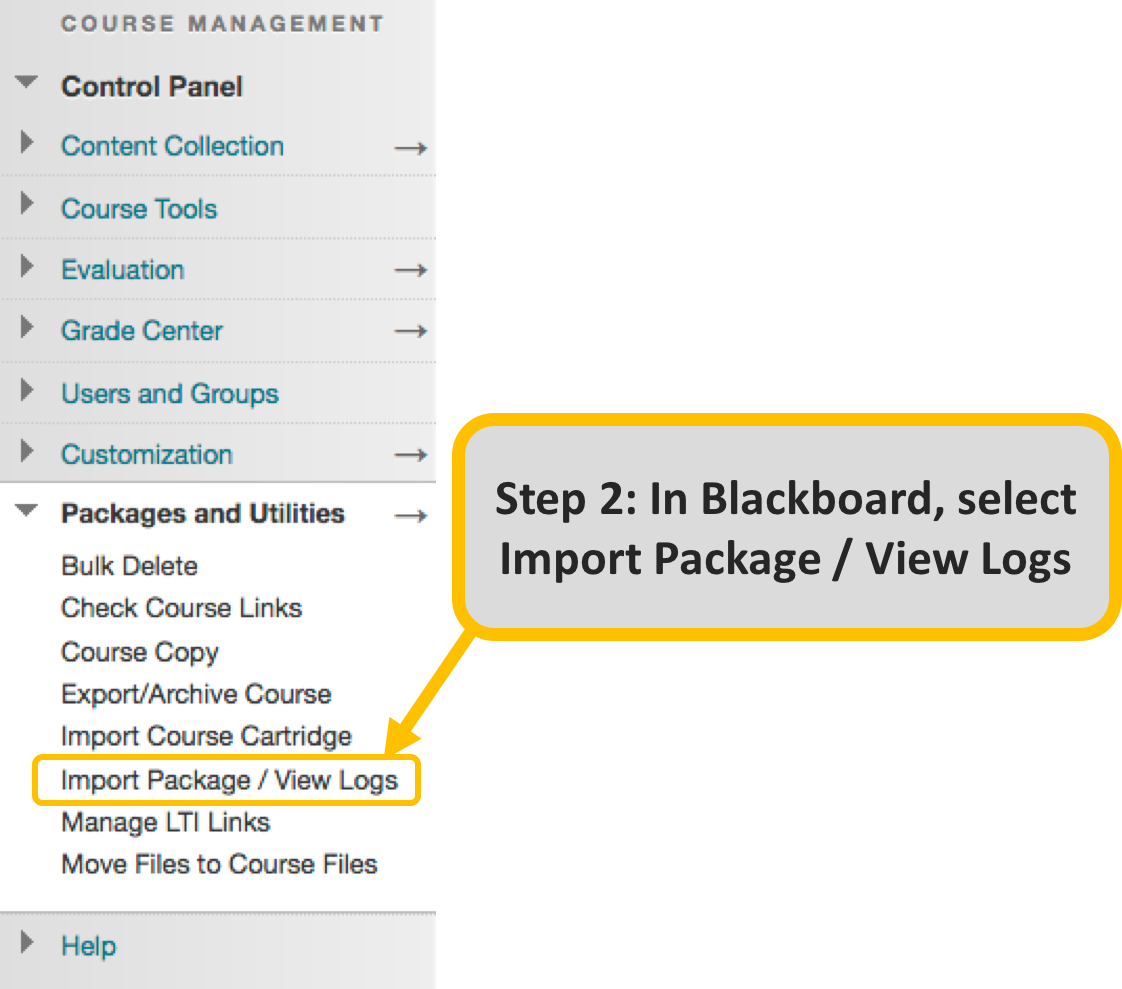 STEP 3: Click on the Import Package button. Then select a package by clicking on the Browse My Computer button. Find and select the downloaded file (hint: ExportFile_UCO_V2_20200413022307.zip).
STEP 4: Scroll down to the Select Course Materials section of the page. We recommend choosing Select All. Then click the Submit button at the bottom of the page.

NOTE:  Please allow a couple minutes for the course to reflect the new interface. You may need to refresh your browser as well.