Summer Learning Opportunities Offered by our COE Colleagues
Check out the COE's Summer Professional Learning series! There are over 20 free scheduled webinars throughout June and July. See what may spark your interest!
Click on the link to navigate to the Summer Professional Learning Series.
---
Up Your Design
When: March 27, 2023
Time: 1:00-2:00 p.m.
Location: Online, via Zoom
Facilitators: Kaye McKinzie and Carla Barber

Enhance your Blackboard course shell and improve its design with five or fewer steps behind the scenes. Learn how to dress up your tables; work with borders and colors; move images from in-line to floating; and more!
Note: Once you have registered, you will be enrolled in a Blackboard sandbox course to use the day of the session and will also be emailed the Zoom link.
Registration closes March 15, 2023.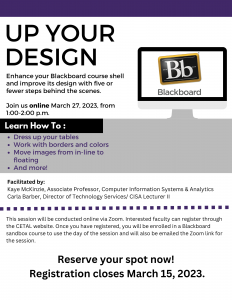 ---
Chat GPT Across the Curriculum:
What is it? How can we respond constructively?
Date: February 21, 2023
Time: X-period
Location: BHCC
Facilitators: Dr. Jen Talbot, Dr. Amy Hawkins, and Dr. Patty Poulter
Many of you have probably seen the flurry of thinkpieces that came on the heels of the release of Chat GPT, a third-generation GPT chatbot developed by Open AI. Chat GPT has been fed the largest corpus of any chatbot to date, and as a result is faster and more convincing than previous generations. Its release creates greater urgency around some of the existential, philosophical, and ethical questions surrounding AI; it also accelerates the need for pragmatic strategies in the educational sphere. This workshop will provide an overview of Chat GPT's capabilities and a collection of suggested approaches, as well as an opportunity to collaboratively brainstorm likely effects in our respective disciplines and assignment-specific strategies to address those effects.