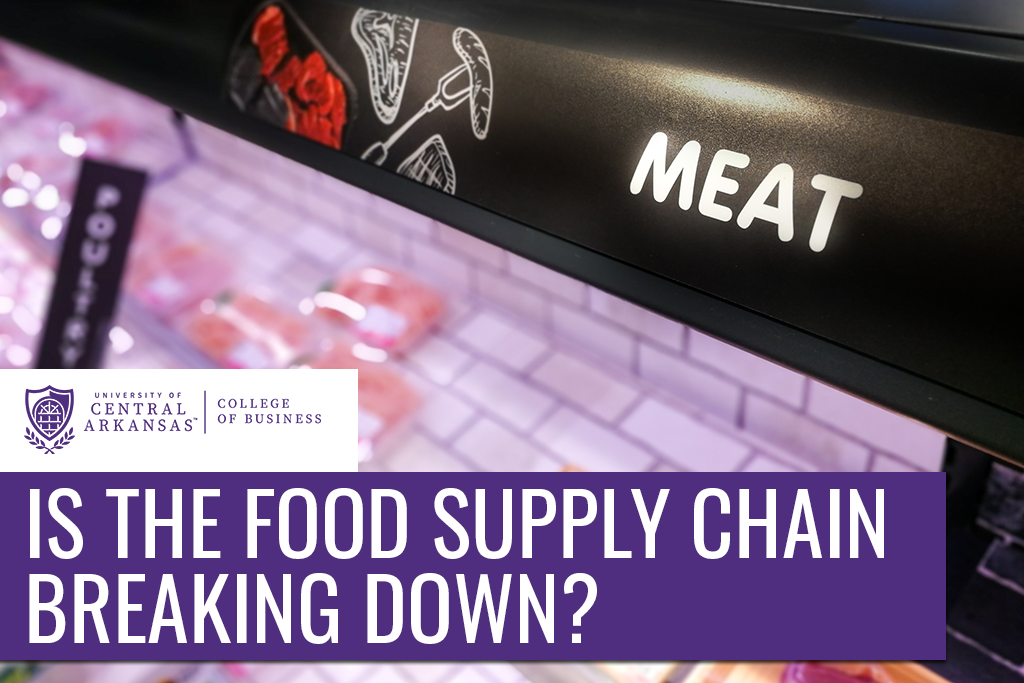 By Doug Voss, Ph.D.
Tyson Foods Chairman John Tyson made news with a full-page ad published recently in The New York Times, The Washington Post and Arkansas Democrat-Gazette that warned "the food supply chain is breaking" and "millions of pounds of meat will disappear" from the supply chain as COVID-19 continues to spread and food processing plants are forced to close.
It is true some production facilities in the meat supply chain are being strained by COVID-19. Meat companies are taking incredible steps to protect their hard-working employees who are trying to feed their own families and yours.
But is the food supply chain truly breaking down as a result of COVID-19? We'll take it claim-by-claim in a good news, bad news format. Want the bad news first? OK, here goes.
BAD NEWS: Yes, multiple meat processing facilities have been taken offline to protect employees. These facilities will generally only be offline for two weeks but this causes supply chain issues.
The supply chain functions best when we remove variability in supply, production, delivery, and demand. Supply chain costs increase, delivery service decreases, and inventory availability suffers when there are big spikes in demand, late deliveries, or manufacturing interruptions. Shutting down the meat processing facilities puts a kink in the supply chain, and there will be local impacts.
GOOD NEWS: Nobody has to go without meat.
Our protein supply chain is robust. The United States produces incredible quantities of pork, beef, chicken, turkey, and fish. After processing, consumable protein is generally directed into consumer or business-oriented channels. Some of it will be refrigerated and some will be frozen.
To give some perspective on how much inventory is held in the meat supply chain, we have enough frozen chicken in storage to feed every American at their average consumption levels for about 21 days. We have large frozen quantities of other protein types as well.
BAD NEWS: While this is encouraging, it's not quite that simple. Frozen product destined for business-oriented channels (i.e. restaurants and foodservice organizations who sell product to restaurants and institutional customers) is packaged differently and in larger quantities than that destined for consumer-oriented channels (i.e. dominated by retailer buyers that sell the product with little to no further processing). Further processing would be necessary to bring it to consumers.
GOOD NEWS: Most meat processing plants are still running. COVID-19 has hit some areas harder than others and meat processing plants are generally located in fairly close proximity to farms and ranches where animals are raised. When an outbreak occurs in an area where a meat processing plant is located, that plant will be impacted.
The virus has impacted areas where pork and beef processing occur. The impacts have not been as severe in areas where chicken processing occurs. For instance, Arkansas food processing plants have remained open throughout the pandemic. Some meat processors have increased the production of chicken to compensate for decreased pork and beef production.
BAD NEWS: You won't starve, but you won't have as much variety to choose from, either. When someone says meat shortage, you probably think of an empty meat cooler. There will be less meat, particularly pork and beef, in the cooler. However, impacted meat processors also produce meat used in many other products you buy in the store such as frozen pizzas.
GOOD NEWS: In some ways, the meat processing plants are easier to start up than they are to shut down. If you're impacted by fewer protein choices at the store, your situation will not last long.
In sum, the situation is real but nobody is going to starve as a result. At this point, the worst-case scenario is restricted variety at your local meat cooler and for products with pork and beef ingredients. To conclude with good news, would it be the worst thing if we took the time to be thankful for all of our blessings and had a few turkey dinners in May, then, another in late November?
Doug Voss, Ph.D., is a professor of logistics and supply chain management at the University of Central Arkansas College of Business, director of the college's Center for Logistics, Education, Advancement & Research, and holds the Scott E. Bennett Arkansas Highway Commission Endowed Chair. He serves on the Arkansas Trucking Association Board of Directors.