Award-winning CISA Lecturer Susan Shaw has led the annual IT Careers Camp for years, but last spring, she began a new course that brought students to the Business Analytics Competition at Manhattan College in New York City. Known for her excellence in teaching and service, Shaw shares here why she chose to teach and her tips for new, current, or prospective business students.
NOTE: If you're interested in joining the project mentioned below in spring 2024, ask your advisor about the CISA 4V71 Project Course. You can also talk with Lecturer Shaw. Registration for spring 2024 begins at the end of October.
Why did you choose to teach Computer Information Systems & Analytics?
CISA was just the perfect fit for me! Looking back over my years of experience in the industry and academia, I realized that every aspect of my professional career had been centered around computers and data. When I began teaching in the CISA department, I felt like I was able to blend the two in order to give students first-hand experience that they can relate to in the classroom.
What about your job brings you the most joy?
I absolutely love working with students! I made the transition into teaching because I loved teaching others. My hope is that in some small way, I can motivate students and help them determine what career path they were meant to be on!
What tips or advice would you give to new, current, or prospective business students?
My advice to students is to choose a major and focus on the area best suited to their interests. By choosing a major, you increase your employer hireability and your income potential!
Tell us about the Business Analytics Competition at Manhattan College.
In the spring semester of 2023, seven students participated in a project course to prepare for the Business Analytics Competition at Manhattan College, May 22-24, 2023. This was the first year that UCA attended the competition. The students signed up for the project course and competition, not knowing exactly what would be involved. They were divided into two teams to complete the projects; within the teams, they selected their roles (Project Manager, Research Manager(s), and Data Visualization Manager). Students received the competition dataset on February 1.
For Phase I of the competition, students were asked to complete a series of tasks: they identified the problem, collected and prepped data, developed a model, and answered research questions related to their data and models. They then created a poster that presented their team's ideas, methodology, and conclusions based on the data analysis. The poster was submitted on May 1.
The students traveled to Manhattan College, where they presented their posters to industry professionals and professors from 23 schools. During Phase II of the competition, the students were given a new dataset and asked to find a similarity to the first dataset and create a presentation within a matter of hours. While we did not receive any awards, the students did an outstanding job on their projects and represented UCA and the College of Business extremely well! This was a great experiential learning opportunity for the students!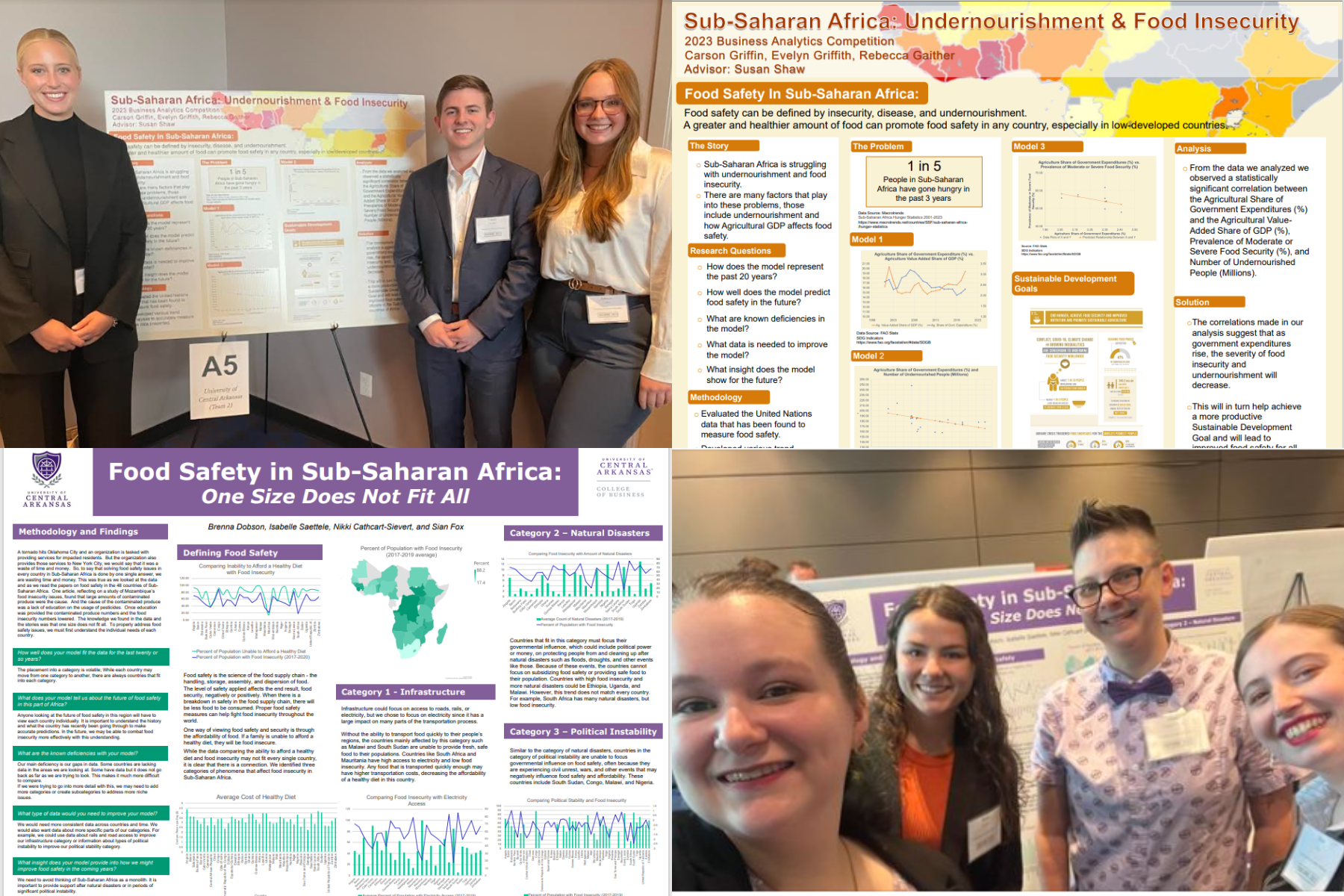 ---
CISA Lecturer I Susan Shaw has earned awards in excellence in service (2022) and excellence in teaching (2023). If you want to catch her in the classroom, plan to take one of her courses next spring: Business Computing, Advanced Spreadsheet Applications, or the CISA 4V71 Project Course that will take students to a case competition.
You may also catch her at the annual IT Careers Camp next summer held for high school students to get hands-on experience with life on campus, activities in the MakerSpace and with making robots, as well as mentorship from IT professors and professionals.