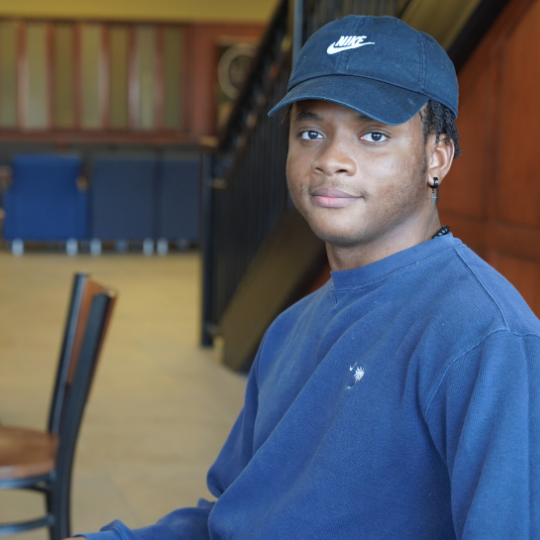 Joshua Adesina
Majoring in Finance & minoring in Data Analytics
Expected Graduation: 05/2022
Involved in: Accounting club, African Students Association, Team Global
What drew you to business? When and how did you know that an education in business is the right fit for you?
I will say I was drawn to this role because of a couple of factors, one of which is growing up with people in the business industry. My parents are in accounting & finance, so that environment made finance not as hard for me. I also have always enjoyed understanding financial concepts and analyzing business processes, especially looking at the big picture of services a company provides to bring in more revenue. Knowing how business processes are done is important, but what is more important is knowing why the business processes are done that way. And given the way I think about money, I didn't second guess getting a financial analyst role. I had to improve on a couple of things to get the position, and it has been worth it so far. The plan is to hopefully get a consulting role later in the future to help improve the services companies provide. The minor improved my technical computer skills making me proficient in software and programs job seekers are now after.
What have you found useful in the College of Business and why? 
the curriculum
the faculty
an internship
the supportive learning environment
The data analytics curriculum in the College of Business has been important to me, given it made me improve my technical skills in terms of computer programs. The finance, economic, insurance, logistics, and economics curriculum has also been helpful in understanding business concepts and getting a big picture in terms of how different businesses operate in terms of finance.
The faculty has been helpful in making complicated or more technical terms easily understandable. This leads me to the supportive learning environment. The availability of tutors and SA at the COB made it easier. It is important to know you should meet the professors because they have your best interest at heart.
And most important is the internship experience. The internship opportunities offered at COB have been great, and it is good to see the amount of companies coming to UCA to recruit candidates for positions. The academic aspect of finance is good, but getting an internship lets you realize early that there is still more to learn. COB providing opportunities where employers come to you has been great.
What experience has been particularly meaningful for you?
The internship has been particularly meaningful to me. And there are a couple of professors that I had the opportunity to speak to one-on-one, and their comments have been particularly impactful. In regards the internship, make sure you try to get one before graduation because it helps you realize that most of the academics you are learning are for foundation building. Different companies have their unique ways of operation, and you are going to have to learn how companies operate when you get into the workforce. So getting experience and real-world experience before graduation will always be a good thing.
What tips or advice would you give to new, current, or prospective business students?
Always build connections and try to get an internship before graduation. The professional connection you build will always be beneficial, be it for you or for someone you know. Also, getting a couple of professional experiences before graduation will make you better equipped to get a good job with top companies since they know you have professional real-world experience. The internship will also help you adapt better in terms of a work-life balance lifestyle when you graduate.
P.S. Not getting an internship isn't the end of the world; internships are great and all, but the connections you build are going to be better.