7/11/2023: Congrats to Emily Conway who has been accepted into the MA program in Clinical Mental Health Counseling at the University of Southern New Hampshire. She will begin her program this upcoming Fall (2023). Emily was a Philosophy major here at UCA that graduated in 2018! 
4/4/2023: We are excited to announce that the podcast "War Machine" will be doing a deep critical examination of Dr. Clayton Crockett's recent monograph Energy and Change chapter by chapter. Find the link HERE TO GO TO THE PODCAST PAGE. 
3/6/2023: Dr. Crockett recently returned from a trip that allowed him to teach a week-long seminar in India! It was noted that the students absolutely loved his book, teaching style and humility! This trip was sponsored by the Global Initiative of Academic Networks. These lectures featured information from his book that you can find HERE.
12/12/2022: Our Ethics Bowl Team represented us in a regional competition. We had two incredible under the advisement of Drs. Ben Rider and Sharon Mason! 
8/31/2022: Dr. Clayton Crockett's latest book, "Energy and Change" is now available through Columbia University Press. Reviewer, John D. Caputo states that it is, "An exciting new title from one of the most original theologians of his generation. Clayton Crockett unfolds with unrelenting inventiveness the implications of the simple but revolutionary premise that everything changes. To be is to be transformed, in physics as in life, in theology as in biology."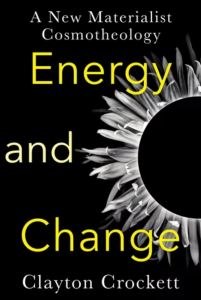 On-going project: Alumni, current students, and friends…. we're asking for your help! Please create a 3-minute YouTube video to tell us about your experience with the Department of Philosophy and Religion. We'd like to post these on the department website to share, because we all know that word-of-mouth is the best kind of advertising! We're thinking about new ways to connect with each other during the COVID crisis, and this is one way to do it. Please contact your favorite faculty, Dr. Duncan, or Tierra via email for support and to send us your creations.