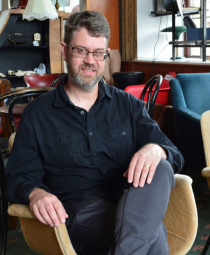 Clayton Crockett
Professor and Director of Religious Studies program
Irby 301
(501) 450-3179
Education:
Ph.D. – Syracuse University, 1998 (Religion)
M.A. – University of Virginia, 1994 (Religious Studies)
B.A. – College of William and Mary, 1991 (History and Religion)
Academic Interests:
Continental Philosophy of Religion and Postmodern Theology; Gilles Deluze; Psychoanalytic Theory; Religion and Politics.
Awards:
2008-09 College of Liberal Arts OUTSTANDING FACULTY MEMBER
2009-10 University Research, Scholarship, and Creative Activity Award Winner
***
Clayton Crockett is a Professor in the Department of Philosophy and Religion and the Director of the interdisciplinary Religious Studies program. He regularly teaches courses on Exploring Religion; Philosophy of Religion; Religion, Science and Technology; and Religion and Psychology. He has authored or edited a number of books, including Religion, Politics and the Earth; The Future of Continental Philosophy of Religion, and most recently, Derrida After the End of Writing. He is a member of a national organization that promotes religious literacy, the Westar Institute, and their "Seminar on God and the Human Future," and also a Distinguished Research Fellow for the Global Center for Advanced Studies, an online graduate school. He has two children and likes to think about energy in multiple ways.