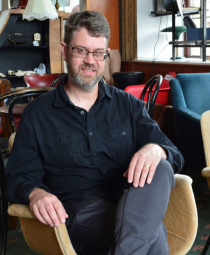 Clayton Crockett
Professor and Director of Religious Studies program
Irby 301
(501) 450-3179
2008-09 College of Liberal Arts OUTSTANDING FACULTY MEMBER
2009-10 University Research, Scholarship, and Creative Activity Award Winner

Ph.D. – Syracuse University, 1998 (Religion)
M.A. – University of Virginia, 1994 (Religious Studies)
B.A. – College of William and Mary, 1991 (History and Religion)
Academic Interests: Continental Philosophy of Religion and Postmodern Theology; Gilles Deluze; Psychoanalytic Theory; Religion and Politics.
Personal Interests: spending time with my wife and two children, reading, traveling, trying to understand theoretical physics, energy and thermodynamics.
***
Clayton Crockett started teaching at UCA in 2003, earned tenure and promotion to Associate Professor in 2008, and to full Professor in 2014. He is the author or editor of a number of books, book chapters, and articles, including Radical Political Theology (2011) and Deleuze Beyond Badiou (2013). He is a co-editor of the book series "Insurrections: Critical Studies in Religion, Politics, and Culture" for Columbia University Press.