UCA Study Abroad to Italy 2023 – Student Interest Meeting
Click for the Student Interest Meeting information and slides about visiting Italy.
---
Dietitian job opportunities available!
40 Hours/week | ASAP for 3 month duration
300-bed Hospital | Census: 150
Travel/mileage offered, pending location | 1 year clinical experience required
Schedule | Weekdays, daytime hours; Open to 4 10-hr days or 5 8-hr days/week
Clinical duties only
JOB OPPORTUNITIES!!
CONGRATULATIONS GRADUATES!
Clinical Dietitian job opening! No experience needed!

ARcare is accepting applications for a Registered Dietitian to provide services in the Northeast Arkansas area. Qualifications: Licensure as a Registered Dietitian; CDCES preferred, 1-2 yrs experience, passionate about education and promoting self-care. Please contact Lydia Sartain at lydia.sartain@arcare.net if interested!

CONGRATULATIONS GRADUATES!
Newsletters
2020 – 2021 Academic NFS Newsletter

2020 – 2021 Alumni and Student Recognition Newsletter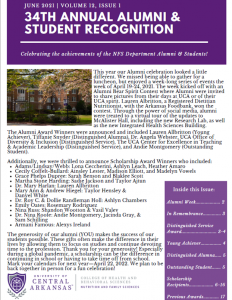 2019 – 2020
2018 – 2019
2017 – 2018
2016 – 2017
2015
2015 Fall Student Alumni Newsletter
2014
2014 Fall Student Alumni Newsletter
2013
2013 Alumni Luncheon Recap Newsletter
 2012