On Campus Student Employment Job Fair – 10:00am-12:00pm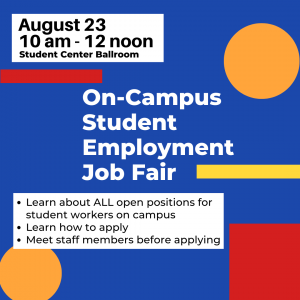 Are you interested in working on-campus? This event provides an opportunity to visit with various departments to learn about available part-time jobs on campus.  Representatives from the participating departments will be available to answer your questions.
 Rainbow Bear Lunch – 12:00-1:00pm

Crafton Alumni Pavilion (next to the practice football field and Estes Stadium home side entrance)
LGBTQIA+ students, faculty and staff are invited to lunch at the Crafton Pavilion. This is an opportunity to connect, build community, and find support at UCA. Allies welcome.
Sponsored by the Pride, Raising Awareness, Involvement, Support and Mentoring Alliance
Dodgeball Tournament – 1:00-3:00pm
Come out for the Battle of the Halls Dodgeball Tournament hosted by SOS! Earn points for your hall toward the Battle of the Halls Trophy and bragging rights for the year. Sign up for your hall's Dodgeball team at the Battle of the Halls meeting on Monday at 4:00pm. Catch IG Live updates @SOS_Orange
This event is for first-year students only.
First Gen Escape Room – 3:00-4:00pm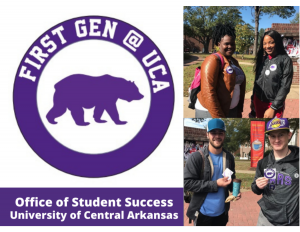 Are you a First-generation student? First Gen @ UCA and the UCA's F1RSTs! RSO will welcome UCA First Gen Freshmen by challenging you in our Escape Room. You'll meet other First Gen Freshmen and upperclassmen, learn a little bit about being successful at UCA, and have lots of fun!!
Sponsored by First Gen@UCA and UCA F1RSTs
Introduction to Blackboard and Campus Tech – 3:30-4:30pm
Blackboard is UCA's virtual course management system used by many of your professors. Gain hands-on experience for navigating Blackboard before your first assignment! IT will also review campus technology, connectivity, and software. Seating limited. This session is repeated on Sunday and Wednesday. Bring a laptop (or at least your phone) so you can follow along.
Sponsored by the Tutoring Center
Panhellenic Recruitment Orientation – 4:00-5:00pm
This session is for women who are signed up for Panhellenic Formal Recruitment. To find out more or to sign up for Formal Recruitment please visit https://uca.edu/panhellenic/fall-formal-recruitment/
Athletics Scavenger Hunt – 5:00-6:00pm

Start at the Student Center Amphitheatre
Come out for a campus-wide scavenger hunt hosted by UCA Athletics! The first three teams to finish the scavenger hunt will receive free gift cards and all finishers will receive a UCA cup.
Sponsored by UCA Athletics
Carnival Night – 6:00-8:00pm

Ronnie Williams Student Center Ballroom & Student Center Courtyard
Come out and enjoy classic carnival games with a new twist! The first 500 participants get a free t-shirt and there will be tons of great prizes given out throughout the event. See you there!
Sponsored by Housing & Residence Life and the Counseling Center
Battle of the Halls – 9:00-11:00pm
Join the Student Orientation Staff as your residence hall competes in an epic clash for the title of 2022 Battle of the Halls Champion! Register for Battle of the Halls during the Battle Prep on Monday. Contact your RA or any SOS member for more information.
This event is for first-year students only.