View from the Field
By Dr. Gayle Seymour
On June 16, 2018, my colleague Dr. Jennifer Parrack (Dept. of Languages, Linguistics, Literatures, & Cultures) and I left Little Rock with twelve eager and excited students for three weeks of study abroad in Spain. Our objectives were threefold: 1) to experience life in Spain–customs, cuisines, and traditions; 2) to discover ourselves by testing our abilities to handle stressful situations; and 3) to view works of art and architecture up close and, when possible, in their original contexts.

Study abroad group with Puppy by Jeff Koons, Guggenheim Museum, Bilbao
Nothing could have prepared us for the delights of Barcelona, our first city of discovery. Within hours of our Sunday arrival, we encountered one of Catalonia's traditional customs originating in the 18th century: Castells, a human tower of 40 people as much as ten stories high. We also immediately discovered Spain's meal times were vastly different from those in the U.S. A simple breakfast of coffee and toast started the day, followed by a substantial three-course lunch at 2pm. Next came a two-hour siesta that pushed dinner, a light meal of tapas ("small portions"), to 11 pm. With our detailed sight-seeing itinerary, this meal schedule was often difficult to achieve.
In week two, our next stop was León in Castile. León, a key city along the Camino de Santiago, the 12th century pilgrimage route, boasts one of the finest Gothic cathedrals in Spain and, perhaps, all of Europe. Having escaped much of the destruction of WWII, León Cathedral has all of its original 128 stained-glass windows (vidrieras). León also provided us with a home base for day and overnight trips to Bilbao, Santiago de Compostela, and Salamanca. The highlight was our visit to the Guggenheim Bilbao. An engineering and design marvel by Canadian-American architect Frank Gehry, the Guggenheim, since its creation in 1997, proves to be the catalyst for revitalization efforts in this Basque city.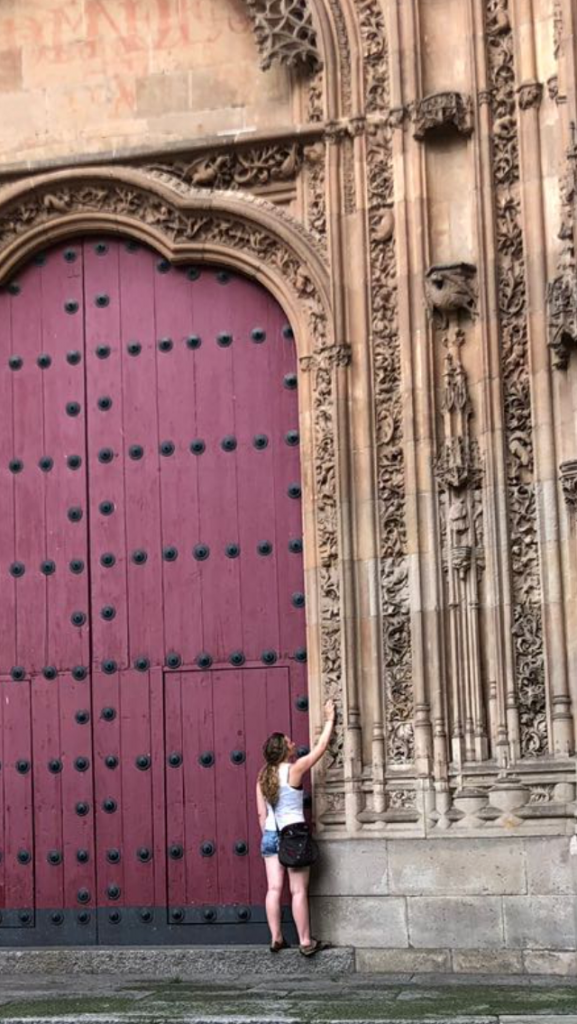 Anna Wagner at Salamanca Cathedral
We spent our final week in Madrid, home of El Prado and Reina Sofia Museums, among others. Many of us stood with tears in our eyes in front of Velázquez's magical Las Meninas, Goya's searing Third of May, 1808, and Picasso's harrowing Guernica. In addition to the Spanish masters, Madrid also showcases some of the best examples of Italian Renaissance and Baroque art. Spain's 16th- and 17th-century kings—Charles V, Philip II, and Philip IV–commissioned and amassed unrivalled collections of works by Titian, Tintoretto, Veronese, and Annibale Carracci.
We arrived home on July 6—exhausted! According to Dr. Parrack's Fitbit, we walked 144 miles and climbed up 350 flights of stairs! Through travel abroad, we saw incredible works of art and architecture that left indelible impressions on all of us largely because we got to see the real thing and experience the scale of objects and buildings. But most of all, study abroad affected our worldview, influenced our career paths, and developed our self-confidence. We even adjusted to the meal schedule of Spain . . . sort of.

Katy Rose inside the kitchen of Casa Mila by Antonio Gaudi, Barcelona
Join Dr. Gayle Seymour and Professor Jennifer Rospert for Art History and Drawing in Spain 2019. On campus instruction: May 13-24, 2019; travel dates in Spain: May 26-June 16, 2019. For more information, visit https://uca.edu/studyabroad/2019-uca-in-spain-art-history-in-madrid/.