Dr. Edmond E. Griffin Planetarium
The Dr. Edmond E. Griffin Planetarium, located on the University of Central Arkansas Campus in the Conway Corporation Center for the Sciences, serves as an astronomy and science education resource center for central Arkansas.  The planetarium is part of the outreach component of the Department of Physics and Astronomy, and as such, it supports astronomy teaching on campus, as well as, offers planetarium shows to school groups and the general public.
Webb Space Telescope First-Images Expert-Panel Viewing July 12, 2022 5pm-6pm
First Images Reveal: NASA, in partnership with ESA (European Space Agency) and CSA (Canadian Space Agency), will release the telescope's first full-color images and spectroscopic data during a televised broadcast beginning at 9:30 a.m. CDT on Tuesday, July 12. Live coverage of the image release broadcast will air on the NASA app and the agency's website (https://www.nasa.gov/live). The public also can watch live on Facebook, Twitter, YouTube, Twitch, and Daily Motion. Released one by one on the broadcast, each image will simultaneously be made available on social media as well as on the agency's website at: nasa.gov/webbfirstimages. You can read more at https://www.nasa.gov/press-release/nasa-invites-media-public-to-view-webb-telescope-s-first-images.
Expert Panel 5pm-6pm July 12 in the Griffin Planetarium: Join in the excitement of Webb's first full-color images by attending this official Webb Space Telescope Community Event:   First-images Expert-panel to be shown in the Griffin Planetarium.  This is only available to the public through special community events.  Lasts one hour. Opportunity to ask questions. Seating limited to the first 94 people.

PUBLIC SHOWS:
Seating for Public Shows is on a first-come basis with maximum possible capacity of 94.  Doors open 15 minutes minutes before each show and there is no admittance once show has begun.  Dates for shows are listed under the individual productions below. Please be aware that no food or drink is allowed in the Conway Corporation Center for the Sciences building.
Summer 2022 Public Shows

Admission is currently free.  Donations to the Griffin Planetarium through the Secure Giving link are encouraged.
The one-hour shows are Friday and Saturday nights starting at 7:00pm.    Entry to the planetarium will start at 6:50pm.  No admittance once the show starts at 7pm.
Shows include a tour of the current evening sky and one of our full-dome productions.
July 8 and 9:  Secret Lives of Stars
"Not all stars are created Equal.  Some are massive.  Others are tiny;  almost insignificant.  The specific characteristics of a star will determine what type of life it will lead, how long it might live and even the type of death it will die.  We will witness the amazing variety of stars and peer into their secret lives.  Narrated by Sir Patrick Stewart of TV's Star Trek the Next Generation and the X-men films.  Winner of 4 Telly Awards."
July 15 and 16:  Experience the Aurora
"Over seven months in the Arctic Circle, our crews captured timelapse images of the Aurora Borealis with high resolution digital SLR cameras outfitted with fisheye lenses. The results are spectacular. For the first time the aurora has been captured as it was meant to be experienced, as a display that covers the entire sky. This immersive show shares the science behind the aurora and tells the story of our quest to find and photograph the aurora for wraparound display in fulldome theaters. Winner of 2 Telly Awards."
July 22 and 23:  Edge of Darkness

"Edge of Darkness features amazing scenes of places never before seen gathered by key space missions that culminated with groundbreaking discoveries in 2015. It features a spectacular flight though the great cliffs on comet 67P, a close look at the fascinating bright "lights" on Ceres, and the first ever close ups of dwarf binary planet Pluto/Charon and its moons. Narrated by Hayley Atwell, Agent Carter, from the Marvel Cinematic Universe and the ABC television series."
July 29 and 30:  Stars of the Pharaohs

"Travel to ancient Egypt to see how science was used to tell time, make a workable calendar, and align huge buildings. You'll learn about the connection the ancient Egyptians felt with the stars and various astronomical phenomena, and experience some of the most spectacular temples and tombs of the ancient world recreated in all of their original splendor. Telly Award winner. Narrated by John Rhys-Davies, of the Indiana Jones films and The Lord of the Rings films."
August 5 and 6:  River of Bears

"River of Bears is about the legendary McNeil River Alaska State Game Sanctuary. During the summertime it hosts the largest congregation of brown bears in the world. Bears come from hundreds of miles to the sanctuary to mate, raise cubs, and dine on the abundant sedge grass and salmon. On a typical day in July over fifty bears can be seen at the McNeil River falls, feasting on salmon desperately swimming upstream to spawn. The show tells the remarkable story of these bears as they prepare for the coming harsh Alaska winter, and the visitors and scientists who come every summer to see them."
August 12 and 13:  Invaders of Mars!
"Under the care of Emmy award winning space artist, Don Davis, this beautifully crafted show highlights our ongoing exploration of Mars. We explore the Martian surface as seen by Earth's various spacecraft "invaders" and use the data gathered to explore the red planet as only CGI can. We fly over the great chasms, canyons and volcanoes, descend amid the icy Martian polar cap, and withstand swirling dust devils. Blinded by the planet-wide storm that often engulf this world, we emerge with a new perspective on the red planet Mars. Includes an optional five-minute end sequence of stereo imagery. Narrated by Tom Baker, of the BBC's Dr. Who. Winner of four Telly Awards."
Conway Corporation Center for Science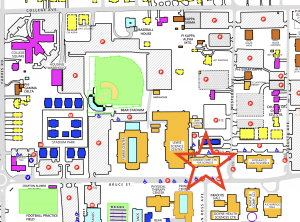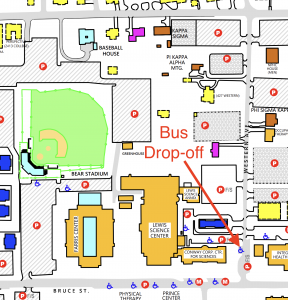 SUPPORT GRIFFIN:
ABOUT:
Contact:
Department of Physics and Astronomy
University of Central Arkansas                          phone: 501.450.5900
Conway, AR 72035                                              fax: 501.852.2286
Staff:
Dr. Scott  Austin                                                    saustin@uca.edu
Director of Astronomical Facilities
Associate Professor of Astronomy and Physics
Department of Physics and Astronomy
University of Central Arkansas                          phone: 501.450.5907
Conway, AR 72035                                              fax: 501.852.2286
History:
From 1987 to 2015, the original UCA planetarium that was located in Lewis Science Center used an electromechanical planetarium projector and a thirty-foot dome to simulate the sky as seen from the surface of the Earth.
The current digital planetarium in the Conway Corporation Center for the Sciences consists of 94 seats under a forty-foot diameter dome onto which an Evans & Sutherland dual projector Digistar 7 system creates a virtual universe.  The universe can now be seen from other locations in the universe, such as, in orbit around Saturn, near a binary star system in our galaxy, or from a galaxy a several million light years from the Earth.
The building of a new planetarium was supported by Dr. Sue Griffin, a world-class neuroscientist at the University of Arkansas for Medical Sciences, and named in memory of her husband Dr. Ed Griffin, a long-time faculty member, chair of the UCA Biology Department, and astronomy enthusiast.