UPCOMING EVENTS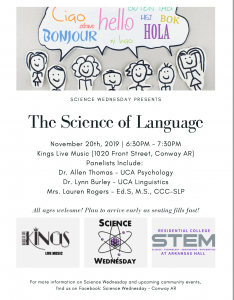 NEWS
*Dr. William Slaton and student Russell Jeffrey attended the Winter Conference of the AAPT in San Diego, CA in January 2018 to present abstracts regarding their research on Solar Radiation Measurements During Eclipse.  This research was conducted through a NASA grant using a balloon launch during the August 2017 solar eclipse.  Dr. Slaton and Russell spent the summer building and testing the instrument-laden balloon before performing the experiment during the eclipse in Missouri.  Russell was able to present their research findings at the Academic High Altitude Conference in October 2017 at the University of Minneapolis as well.
*Dr. Debra Burris and students Kimberly Manriquez, Kayce Conville and Sonja Wagner attended the APS Conference for Undergraduate Women in Physics (CUWiP) at the University of Kansas January 12-14, 2018.
*The annual American Astronomical Society meeting was held in Washington, DC in January 2018.  Jeremy Lusk, Visiting Lecturer, attended to present his doctoral research on Supernovae.
*Blake Bryant attended the APS Division of Nuclear Physics Fall meeting in Pittsburgh, PA  in October 2017 to present his research abstract.
*Russell Jeffrey attended the Academic High Altitude Conference at the University of Minneapolis in Minneapolis, MN in October 2017. He presented his abstract on research done with a NASA grant, Solar Radiation Measurements During Eclipse.
*Dr. Carl Frederickson, Dr. Balraj Menon and Dr. Scott Austin attended the ABET Program Assessment workshop in Chicago, IL in September 2017.
*In July 2017, Dr. Carl Frederickson attended the Noyce Summit in Washington, DC.
*Dr. Rahul Mehta  and Dr. Brent Hill, Dept. of Biology Chair, along with their research students Sydney Freyaldenhoven, Jordan Barajas, Sage Shaddox, Hayley Heacox, and Kristen Jones and Dr. Parimal Chowdhury of UAMS, spent time with researchers at NASA-AMES in Mountain View, California in May.  This group has been conducting research and experiments under their grant "Physiological and Structural Studies Under the Influence of Simulated Microgravity and Space Radiation".  The goal of this research is to understand how microgravity and space radiation influences mechanical strength and elasticity of skeletal bones and other tissues.  Because of the similarities in their research and the research that NASA conducts to identify risks to astronauts health, the benefits from spending time with NASA scientists was immeasurable.
*Dr. Debra Burris, along with research students Jacob Cameron and Alex Jumper, attended the 227th annual American Astronomical Society (AAS) winter meeting in Grapevine, TX in January 2017.  Jumper presented his research on the abundance of heavy elements in halo stars using spectroscopy. He is looking at the abundance ratio of 6 heavy elements.  Cameron is participating in a joint project with the University of Arkansas trying to verify a new way to get the mass of a black hole. Cameron is using the traditional method of spectroscopy and luminosity relations, so U of A can match data obtained using their new method with the data obtained using the traditional method.More info on Dr. Burris' research is found here: http://faculty.uca.edu/dburris/
*Dr. Rahul Mehta, along with Dr. Azida Walker presented research at the Radiation Research Society Conference in Waikoloa Village, HI in October of 2016.  Dr. Mehta and Dr. Walker collaborated on "The Use of Neutron Activation Analysis in the Study of the Effects of Radiation at the Cellular and Molecular Level". Dr. Mehta and Dr. Walker presented an abstract at the conference  on "Effect of space-like radiation and simulated microgravity on mechanical properties of rat bones". The date for this abstract was gathered in collaboration with students Hayley Heacox and Lawrence Benzmiller as well as colleagues at UAMS. Dr. Mehta presented a third abstract on "Simulated Microgravity Perturbs Cytoskeletal and Cellular Signaling Machinery in Mammalian Cells" that was researched in collaboration with Dr. Brent Hill of UCA and colleagues at UALR.