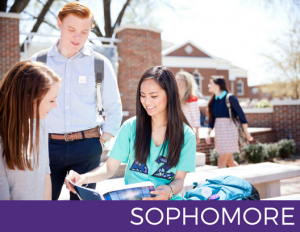 Sophomore Year
Continue to explore and gather information about career fields. The best resources are people who work in the career fields that interest you. Cooperative education, internships, summer jobs, and volunteer activities can also provide first-hand insights.
Expand your knowledge of career options. Make a list of the ones which sound interesting.
Attend career fairs and other career-related programs to increase your knowledge of the full range of jobs that people perform. This is the final year that you can choose to participate in the Future Interns Program.
Conduct informational interviews with people who work in career fields of interest to you. Spend a day on the job with a professional (job shadowing).
Get to know the Cooperative Education staff in Career Services and pursue internships, part-time and summer jobs and volunteer activities to gain work experience and to learn more about your work preferences.
Assume a responsible role in activities on campus.
Register with the Career Services online recruitment system (Bears4Hire).
Attend the Annual Internship Banquet to network with company representatives offering summer internship opportunities.
Visit Resources for other links to help you toward your career.