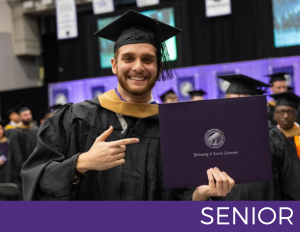 Senior Year
Now, it's time to soar into the next phase of your career!  Whether it's graduate school or professional career, you've planned ahead and set reasonable career goals for yourself.  All your hard work will soon pay off.  Network, apply for positions, and interview for jobs during year four.
Confirm your remaining degree requirements at the beginning of the year so there are no "surprises" when it is time to graduate.
Continue to meet with your Career Coach for guidance and resume review.
Organize your job search and send out resumes.
Sign up for Career Services campus interviews via Bears4Hire (Handshake).
Look for additional jobs via Bears4Hire (Handshake), Arkansasjobs.net,  NaceWeb, LinkedIn, and MyVisaJobs
Use your contacts to identify job opportunities and get referrals.
Attend UCA Career Fairs.
If possible, participate in another internship to make your resume incredibly impressive to employers.
Explore career paths and expand your network while building and demonstrating your skills through micro-internships.
Prepare for your first job. Talk with UCA alumni about their first year on the job and some of the challenges you can expect.
Write to and join professional associations.
Network, network, network.