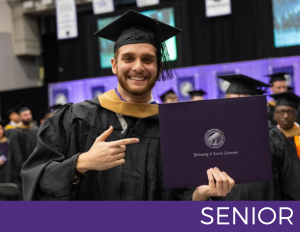 Senior Year
Plan ahead and set reasonable career goals for yourself. By now you are facing a transition from college to graduate school or a career position. Graduate school applications, reference letters, and test scores must be submitted early. Bears4hire job listings and on-campus interviews, arkansasjobs.net job listings, directemployers.com, NaceWeb, LinkedIn Jobs, virtual career fairs, and career fairs will help you identify prospective employers and career positions. International students can get information about companies that offer sponsorships at MyVisaJobs.
Participate in Career Services on campus interviews via Bears4Hire powered by Handshake.
Look for additional jobs via Bears4Hire, Arkansasjobs.net,  NaceWeb, LinkedIn Jobs, virtual career fairs.
Use your contacts to identify job opportunities and get referrals.
Attend Career Fairs.
Confirm your remaining degree requirements at the beginning of the year so there are no "surprises" when it comes time to graduate.
Participate in another internship to make your resume incredibly impressive to employers.
Explore career paths and expand your network while building and demonstrating your skills through micro-internships.
Prepare for your first job. Talk with UCA alumni about their first year on the job and some of the challenges you can expect.
Continue to update your resume and have it reviewed by Career Services. Adapt your resume to the positions for which you are applying.
Sign up for Senior Mock Interviews and get some practice to improve your interviewing skills.
Write to and join professional associations.
Network, network, network.
Organize your job search and send out resumes.
Visit Resources for other links to help you toward your career.