What do I need to do to be a successful student?
Many students think college will just be an extension of high school.  It's not.  To be successful in completing a college degree requires academic skills, study strategies, and personal habits you might not have used before.  To be a successful student often means learning how to be a good student, first, and then learning the material covered in your classes.  UCA provides resources to help you become a better student, but they are not mandatory.  Only you can take advantage of the many workshops and services provided to improve your study skills and ability to manage your time.
What do I do if I'm having difficulty in a class?
First, don't wait until late in the semester to address your difficulties.  The first time you realize you don't understand an assignment, or you receive a grade that's lower than you expected, seek help. Everyone needs assistance at some point.  Take advantage of the resources you have to improve.  You don't have to struggle alone.  Meet with your professor (that's why they have office hours!). Check the Tutoring Services website for the tutor schedule or contact the Center for Writing and Communication for an appointment.  (You've already paid for these services in your fees!)  You can also form a study group with others in your class.  You might understand something they don't, and vice versa. Take the initiative and seek help.
What if I feel out of place at UCA?
Many students struggle to adapt to a new environment, especially during their first year. It's a fairly common human experience.  Time often helps, but reaching out to others or trying new things can help, too.  Some students find it helps to join a new organization (we have over 200!).  Look through CubConnect on myUCA to see what's available, or ask your faculty about academic organizations through the department. Other students find meeting with a peer coach or even with a counselor just once can ease feelings of anxiety or homesickness.  If you're living in UCA housing, you can also seek out your Resident Assistant or Peer Mentor for support or advice (that's what they do!).
What if I'm confused about my major or my finances?
Every student at UCA is assigned an academic advisor and a financial aid counselor.  These people are here to assist you! Make an appointment to see them or even just stop by the office and ask to meet with someone who's available.  UCA also provides you a lot of information online about your program of study and your finances. As the one earning the degree, you should know all that you can about your degree requirements and expenses.  Here are some resources to consult:
Academic Maps (eight-semester plan for your degree)
The Undergraduate Bulletin (contains course descriptions and program descriptions for all degrees)
DegreeWorks (this will show you what courses you have yet to complete; access this through myUCA)
Your student account (find this in Self-Service on myUCA)
How much time should I spend on classes OUTSIDE of class time? 
For every one credit hour in which you enroll, you will spend approximately two to three hours outside of class studying. Therefore, to help determine the course load most appropriate for you, use the formula:
3 credit hours (1 course) = 3 hours in class per week = 6-9 hours study time per week.
12 credit hours (4 courses) = 12 hours in class per week = 24-36 hours study time per week.
University vs. High School: what to expect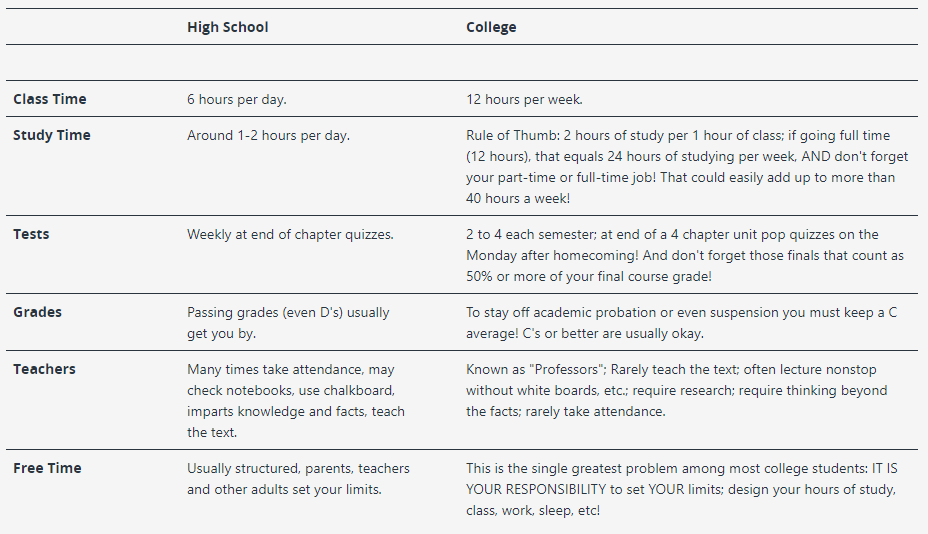 Did You Know?