All students are encouraged to meet with a Peer Success Coach whenever needed.  Coaches are here to assist you in elevating your study skills, determining how to utilize your time more effectively, planning for exams, and navigating the UCA system and college life. Coaches can be seen by appointment (in-person or zoom) by following the directions below.  Walk-ins are also welcome in the Peer Coaching Lab in Old Main 106. Click on the images to the right to get further details about the coaching session, resources, success plans, and the Academic Recovery Process.
Students in the Academic Recovery Process will continue to meet the program requirements of one coaching session for students on alert and two coaching sessions for students on probation.  Refer to your Academic Standing Notification email for additional information.
To schedule an appointment using the Navigate for Students app, first select Appointments (at the very bottom) then, Schedule Appointments, then Student Success & Coaching Success Coaching.
To schedule an appointment using MyUCA, first login and select Navigate, then 'Get Assistance' – Student Success & Coaching. Select Success Coaching. Then, click on Find a Time to select a time and date that works best for you. Finally, choose whether you would like to meet in person or virtually (via Zoom) Be sure to use a device (phone, laptop, tablet, computer, etc.) with a camera and microphone connection for your session if you choose Zoom.
After you make an appointment, complete this self-assessment form, and it will be sent to the Peer Coach you will be meeting with. *Please complete this form after you've scheduled the appointment*
If you have trouble making an appointment or simply need help with anything, you can reach us by email at studentsuccess@uca.edu
---
Office of Student Success Coaching Staff, 2022-23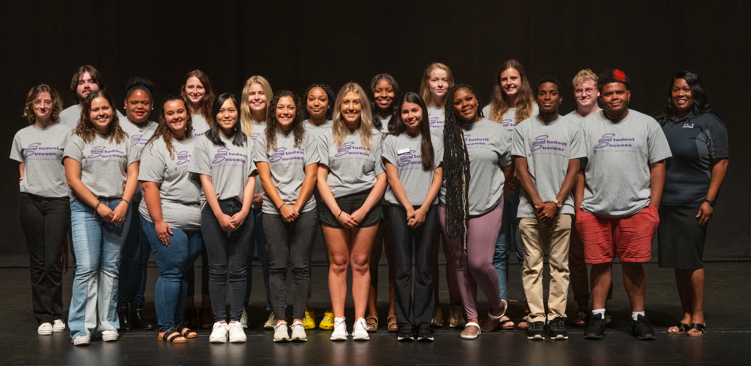 ---
Victoria P., PhD Counseling Psychology
Layne T., PhD Counseling Psychology
Shamal S., CSPA
William O., PhD Counseling Psychology
Ra'Shan S., Post-Bacc
Tommyah D., Biology
Natalie L., Management
McKinley G., Psychology
Amy L., History
Carolyn S., Exercise Science
Baylee P., Communication
Ahmad J., Film
Addison Y., CSD
Hayley J., Exercise Science
Azyah S., Elementary Education
Rebecca TG., Music
Not pictured: Kierstyn M, Criminology; James B, Exercise Science; Lauren V, Management
---
The coaching program strives to deepen a student's commitment to their educational success by encouraging and supporting students to become self-directed learners.  We offer practical skills and resources to:
Improve your effectiveness in and out of the classroom
Develop better study skills and time management
Establish clear goals and identify obstacles
Manage your stress and create life balance
---
 Questions? Contact the Office of Student Success at 501-852-2117 or visit Old Main 104.