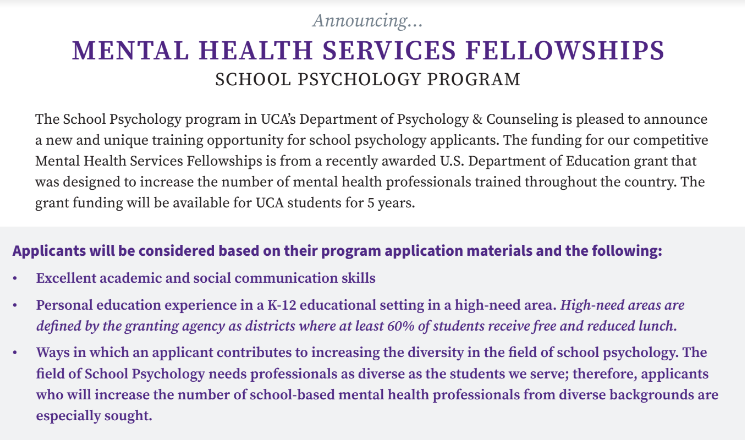 Welcome!
The mission of the Educational Specialist in School Psychology program at UCA is to prepare entry-level school psychologists to apply scientifically-based psychological and educational principles and practices in all dimensions of their professional work. Graduates of the program are reflective and competent professionals committed to understanding human behavior, respecting and valuing human diversity, best practices in school psychology, continuing professional development, and the professional standards of the National Association of School Psychologists.
Help us be part of the solution
… At UCA, we acknowledge the reality that the racial/ethnic composition of school psychologists in the US is much less diverse than the racial/ethnic composition of the students, parents, and schools we serve. We want to change this reality!
We desire and welcome applicants from all groups in this wonderfully diverse country of ours.
Program highlights:
Fully accredited by the National Association of School Psychologists
100% of our students who want a graduate assistantship on campus obtain one
100% of our students accept a paid internship
100% of our graduates are license-ready upon program completion
100% of our graduates obtain post-internship employment
Program size allows for connected and supportive cohorts
Program size allows for meaningful faculty interaction and mentoring
Interested in our program? 
Are you a freshman or sophomore at UCA?
Check out our Undergraduate Pathway and Mentorship Program!

 

Contact Dr. Martens (

martensh@uca.edu

) or click HERE for more information.
Have you recently graduated or about to graduate?
Our application deadline is March 1 each year.
Our next interview day is March 15th, 2024.
Here are the materials needed for your application packet:
Official transcripts of ALL completed college coursework – must include 12 hours of undergraduate psychology coursework, including General Psychology and Statistics

Official GRE scores on the General Test (not needed if you have a graduate degree)

Three letters of recommendation – at least one from former professor

Personal statement of 500 words about your interest in school psychology and UCA

Current resume

Before the application can be processed, the applicant must submit a background check at the following link: Background Check.
Application Fee-$45
Submit all materials via the UCA Graduate School portal.
Note: Requests for transfer credit may be discussed during the interview, but the final determination will be made after the applicant is accepted into the program. 
Additional Program Information:
Program faculty include Dr. Joan Simon (director), Dr. Heather Martens, and Dr. Kyla Warnick along with a multitude of other Department of Psychology & Counseling exceptional faculty.
We want you at UCA!
Check out our UCA Campus Life webpage. There you will find many many resources to help you succeed at UCA.