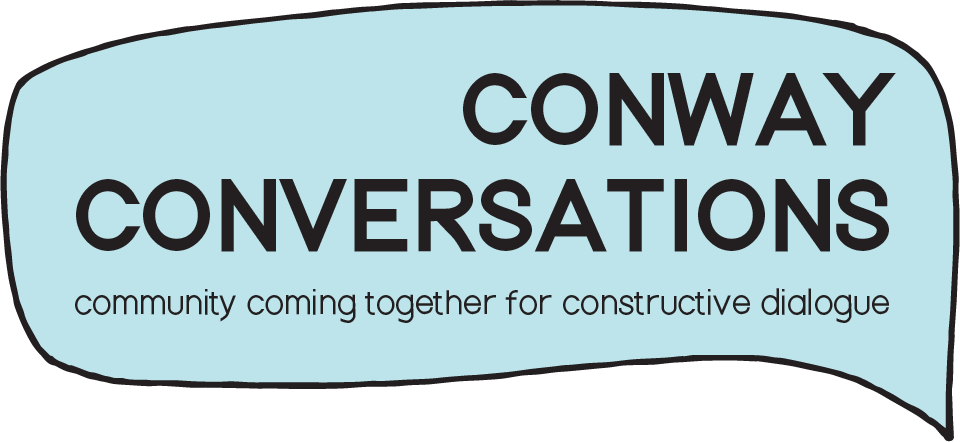 Mission
The mission of Conway Conversations is to provide a space for members of the UCA campus and Conway communities to come together and engage in conversation about social issues affecting diverse groups of community members. All members of the UCA campus and Conway communities are invited to join us to listen and share with one another. In all of our events, Conway Conversations welcomes a diversity of views and perspectives in the spirit of dialogue across differences.
---
Upcoming Events
Sign up to receive our email newsletter about upcoming events here.
---
Past Events and Resources
Crisis in Ukraine
Thursday, June 9th | 6-7pm CDT | View Recording

Since February 2022, the world has witnessed a new level of conflict in Ukraine, with millions of Ukrainians displaced and other nations responding in a variety of ways. As the crisis grows, it gets increasingly complicated and has left many people outside of Ukraine wondering how we got here, what the conflict is about, how or when it will end, and how we can support those most affected. Panelists included
Alan Elrod, 

The Pulaski Institution

Dr. Kateryna V. Pitchford, Central Baptist College
Dr. Mark Elrod, University of Central Arkansas
Dr. Shaun Casey, Harvard Divinity School
Dr. Malcolm Elliott Glover (Moderator)
National Day of Racial Healing 2022
Tuesday, January 18th | 5:30-7pm CST | View Recording
This event featured UCA faculty and staff panelists whose perspectives ignited interactive small-group dialogue on the topic of Revisiting Broken Systems.
Dr. Kristy Carter, Fixing Broken Entrepreneurial Ecosystems for Women of Color
Dr. Taine Duncan, CRT and Critical Theories of Race: How Political Philosophy Can Help Us Identify and Resolve Structural Inequities
Dr. Marsha Massey, Confronting Bias in STEM Education: Reflections of a Black Chemist
Additional Resources:
Where Do We Go from Here?
In June 2020, the Conway Conversations team hosted a facilitated conversation for participants to listen and share their feelings and reflections on the death of George Floyd and ongoing demonstrations. Participants discussed opportunities to support one another and contribute to long-term solutions to social problems. Resources for ongoing learning, reflection, and action are available at the link below.
---
Conway Conversations Planning Team
Dr. Candice Maxwell, College of Education

Dr. Riva Brown, College of Arts, Humanities, and Social Sciences

Dr. Lesley Graybeal, Division of Outreach & Community Engagement

Wendy Holbrook, Division of Student Services

Steven Shook, Center for Leadership Development
If you would like to assist in facilitating a Conway Conversations event, please contact Lesley Graybeal at lgraybeal@uca.edu.
This program is jointly supported by UCA Outreach & Community Engagement and UCA Division of Student Affairs.
---
LISTEN – UNDERSTAND – CONNECT