Our online training and learning program offers hundreds of highly interactive courses that you can take entirely online. All of our courses are noncredit, led by expert instructors and are fun, fast, convenient and affordable. These courses are a flexible solution to your lifelong learning, continuing education and/or career development needs.  Check out all we have to offer using the links below.
For more information about our online, noncredit programs, please contact outreach@uca.edu or call 501-450-3118.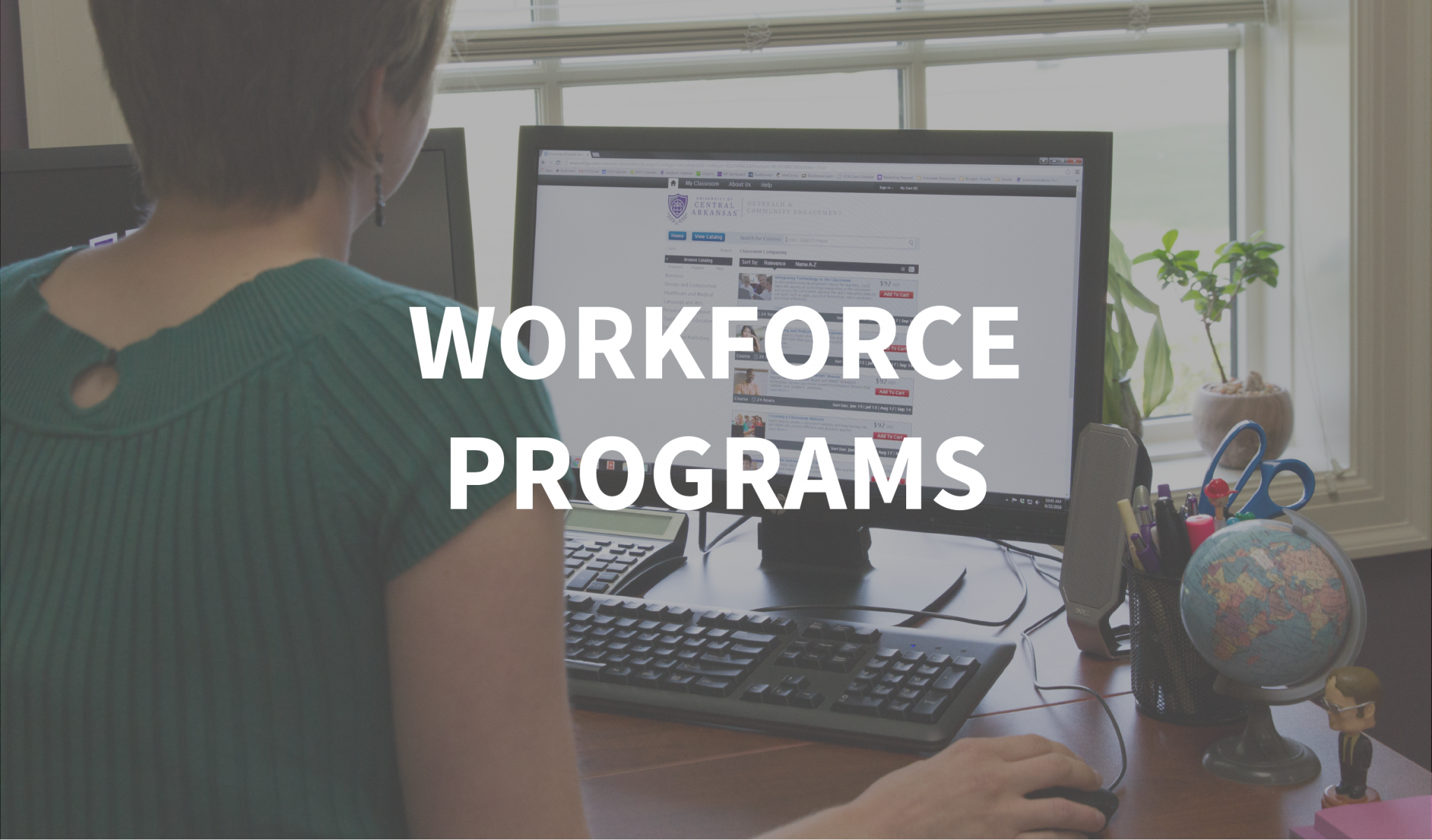 Ed2Go Career Training Programs (Arkansas Workforce-eligible)
If you are looking for a new career and you are currently unemployed or a dislocated worker in the state of Arkansas, you could be eligible to receive training for a new career at no cost.  We have several online career training certificate programs that have been approved for the Workforce Investment Opportunity Act (WIOA). For complete descriptions and details and to view our entire list of eligible, online programs click the link below.
Ed2Go Lifelong Learning Programs & Test Prep
Ed2go offers a wide range of highly interactive web-based courses ranging in topics from web design to project management–all offered entirely online. Each course provides instruction from a highly-qualified instructor, lively discussions and supplemental resources for practical use. Courses begin monthly and run for six weeks. Also available through Ed2go are online test preparation for the ACT, GMAT, GRE, LSAT and many others!
Ed2Go Pro Skills Training Programs
Ed2go Pro offers online programs designed specifically for professionals in business and industry. Courses are available for continuing education units (CEUs) and can be self-paced or instructor-led. This option is excellent for managers who have many employees in need of training, as well as for professionals interested in obtaining their CEUs or a new skill in areas such as Employee Management, Corporate Finance, Web Programming and more.
Ed2Go Career Training Programs
The online career training programs offered through Ed2go provide a convenient and affordable alternative for individuals who seeking more in-depth career training. They range from three months to six months in length. Certification is available in a variety of subject areas, including: project management, healthcare, software development and more. Enrollment is open and available at any time.
Ed2Go Professional Development for Educators
Now teachers, grades k-12, can earn professional development credit on their own time with Ed2go for Educators. Each online professional development course has been approved by the Arkansas Department of Education for 24 professional development units. Courses begin monthly and run for six weeks.