UCA Conference Services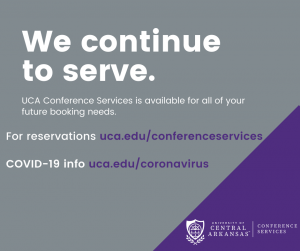 We're here for you. 

The health and well being of you and your families, our staff and students are of utmost importance. We apologize for any confusion or disruption of service as a result of COVD-19. Due to ongoing COVID-19 protocol, Conference Services is currently operating under limited room capacities and setup styles. We ARE open! However, first priority will be given to the university should it require our facilities. This means that we will not be able to formally confirm your event reservation until the week of September 6th. Please continue to use the reservation request forms to make event requests, and remember that masks are REQUIRED on-campus in any enclosed spaces, events included. With this in mind, if you would like to reserve a space with us, we are here to help.
Our Conference Services team is dedicated to making your conference, workshop or wedding stress-free. We offer updated technology, a wide variety of venues and full service event planning 
– click the graphics below to explore the venues. 
For more information about event planning and renting our venues, contact us at 501-852-2699

or

conferenceservices@uca.edu.

---
Submitting a Request?
                                     
The Brewer-Hegeman Conference Center offers turn-key conference services that can accommodate a small business meeting or a large company conference. We offer fully advanced audiovisual equipment (including Apple TV) throughout the entire center and this venue is easily accessible making your event convenient for participants.
---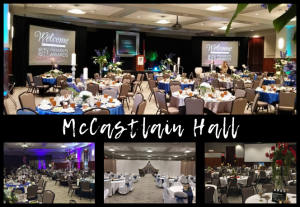 Original beauty with modern features – this newly renovated venue offers two beautiful spaces: East McCastlain Ballroom and Fireplace Room. The Ballroom is the perfect spot to host your banquet or luncheon, complete with cutting edge technology (including Apple TV.) Our Fireplace Room offers a more intimate gathering space for less than 50.
---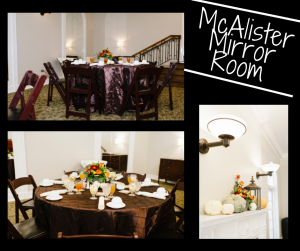 McAlister Hall's gorgeous Mirror Room recently underwent renovations that have restored the original charm while updating the overall aesthetic. Since the update, Mirror Room has proved to be very popular among Departments and Student Groups on-campus. With a maximum occupancy of 80 people, it is the perfect space for your next intimate gathering!
---
You may also book other spaces through Conference Services. Click here for a complete list of the spaces we have for you at UCA!
---