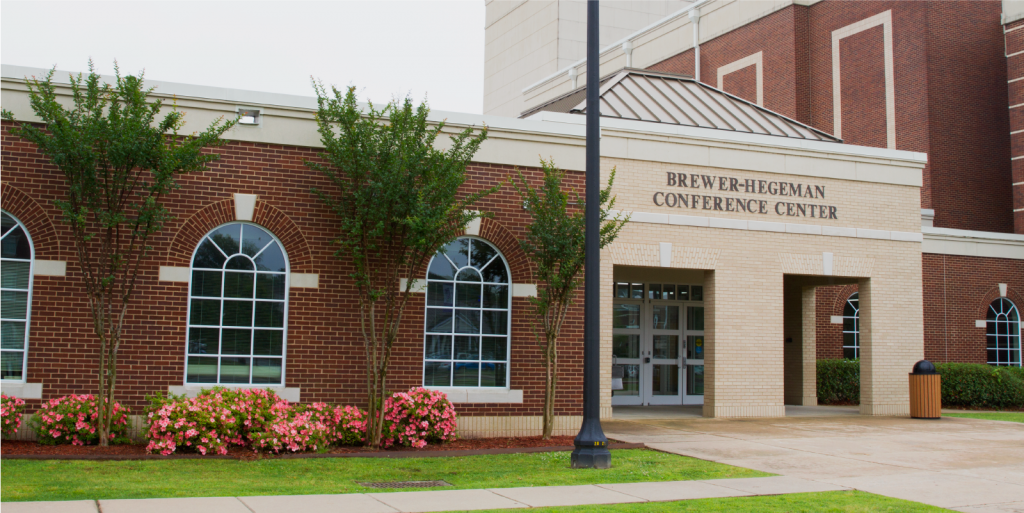 Conference Services – Division of Outreach & Community Engagement at the University of Central Arkansas.
Conference Services is setting new and higher standards of excellence for the conferencing and event planning needs of associations, businesses and community groups.
---
Conveniently Located
Our location in Conway on the University of Central Arkansas (UCA) campus puts us at the periphery of metropolitan Little Rock – just a 30-minute drive from the State Capitol building, William Jefferson Clinton Presidential Library, RiverMarket District and the Little Rock National Airport.
---
Directions

Take Exit 129B off I-40. Head west on Hwy 286 (Dave Ward Drive) for about two miles. Turn right onto Donaghey Avenue (this intersection has a stoplight and there is a large digital sign on the northwest corner).  Proceed north past the baseball and soccer fields, then take a left on to the first university entrance called Beatrice Powell Drive. The Brewer-Hegeman Conference Center (BHCC) is located in the tri-plex next to AETN.  Limited parking is available on the north side of Beatrice Powell and on the west and south sides of the building.
---
Brewer-Hegeman's Name and Beginning
Funded by a $2.25 million contribution from the Conway Corporation, the Brewer-Hegeman Conference Center is named for James Brewer and William Hegeman, two former Conway Corporation employees whose dedication and efforts helped make the contribution – and the Conference Center – a reality.  Their visionary goal and accomplishment was to make the Conference Center part of a $22-million complex on the campus of UCA. They succeeded.  Thus the many benefits of the Conference Center include outstanding adjacent facilities, including the Donald W. Reynolds Performance Hall.
Here for your use and enjoyment is a comfortable and stimulating environment, an eager event staff and the latest tools for communications and multi-media.  We are located on the beautiful campus of UCA in Conway, which is convenient to Little Rock–just a short drive from the State Capitol building, Clinton Presidential Library, Little Rock River Market and the Little Rock National Airport.
With 6,500 square feet of meeting space and the potential for seven conference rooms, the Brewer-Hegeman Conference Center can easily accommodate over 500 people in its entirety or 200 people in the largest room.
Call OR click to schedule your next meeting or event
with UCA Conference Services! (501) 852-2699
---
Available Campus Maps
Directions to and Parking for Brewer-Hegeman Conference Center
University Police Department Website
---
Conway – "The City of Colleges"
Conway is known as the "City of Colleges," as Hendrix College, Central Baptist College, and UCA are located in the city. With combined student enrollment of over 16,000, these three institutions give Conway a culture that is youthful, scholarly, and fun. Surrounded by an abundance of parks, waterways and beautiful open spaces, the Conway community hosts organizations like the Conway Symphony Orchestra and the Conway Community Arts Association that provide many cultural opportunities. The historic downtown district is known for quaint eating establishments, retail shopping, and antique browsing. Conway is also known for its annual and nationally recognized festival, "Toad Suck Daze." Traditionally held the first weekend in May, the festival includes toad races, arts and crafts, concessions, entertainment, and carnival rides – all dedicated to raising money for scholarships. Click here to learn more about Conway.