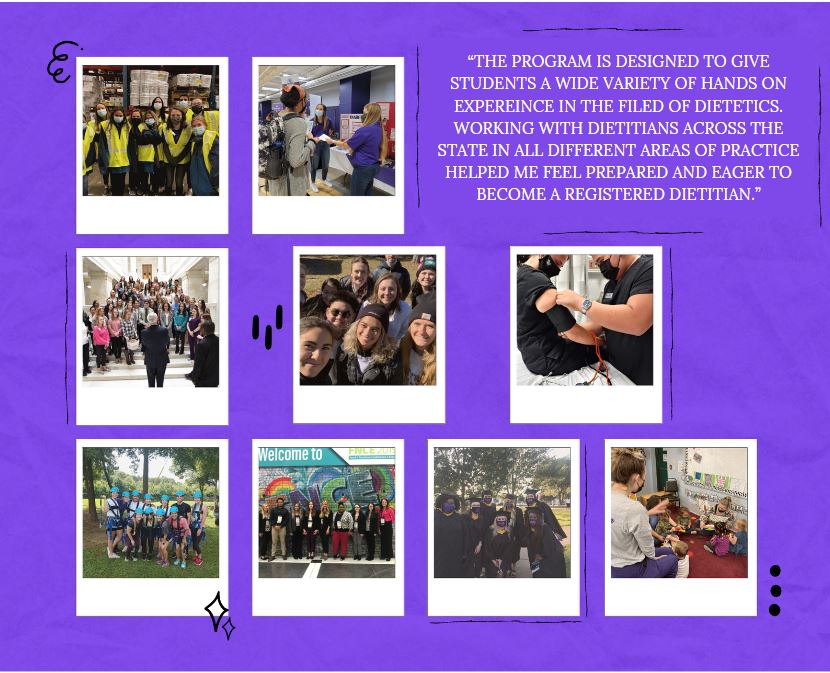 PROGRAM DESCRIPTION
15-month post-baccalaureate program

Beginning June and concluding mid-August of the next year

1040 hours of supervised experiential learning, 3-5 day orientation

Full-time supervised experiential learning over two summers with additional learning during fall and spring semesters
EXPERIENCES
Planned learning experiences include but are not limited to public and university school settings, hospitals, local health departments, wellness facilities, specialty clinics, retirement communities, physician's offices, extended care facilities, the University of Arkansas Cooperative Extension Service, and the Department of Health and Human Services

~40 facilities with qualified preceptors are available for rotation experiences in the area

The majority of facilities are located within 100 miles of UCA; however, some facilities may be located beyond the 100-mile radius
---
HOW TO APPLY 
UCA has been selected as a Cohort 5 Demonstration Program for the Future Education Model – Graduate (FEM-G). 
Please 

c

ontact alandry@uca.edu for more information.
To apply for admission, students should submit applications through DICAS. 
Create an account at http://dicas.liaisoncas.com, complete the DICAS application and submit application fee ($50).
Follow the instructions on the DICAS portal to submit transcripts. This should be done several weeks before submitting your application.

To expedite a review of your application, you may upload unofficial transcripts.

Submit a personal statement (1,000 words max) answering the following questions:

 Why do you want to enter the dietetics profession?
Discuss experiences that have helped to prepare you for your career.
What are your short-term and long-term goals?
What are your strengths and weaknesses or areas needing improvement?
Why do you want to attend the UCA MS in Dietetics and Nutrition Therapy?

Submit ServSafe Food Protection Manager Certification.

It is the responsibility of the student to acquire ServSafe Food Protection Manager Certification prior to orientation for the program. Applications will still be considered if an applicant is currently enrolled in or planning to take the course. If either of these situations applies to you, please upload proof of course/exam registration (e.g., confirmation email, screenshot of ServSafe confirmation, etc.) or a statement that you will complete the course in which ServSafe is offered.

Submit the contact information for three references (A form will be sent via email to the references through DICAS). The following types of references are needed:

professional references
faculty/academic references
---
ADMISSION REQUIREMENTS
The following are required for admission to the program:
BS Degree: Applicants must hold a baccalaureate degree from a four-year college or university, or its international equivalent with a 3.0 GPA or better in any subject. Students who earned a degree in nutrition/dietetics and have received a verification statement are eligible to apply, as are students who earned a degree in any other subject, as long as they have completed the required prerequisite courses prior to admission.
Prior to applying students must complete the following prerequisite courses:
1 semester of an introductory or basic statistics course
1 semester of general chemistry
1 semester of organic chemistry (preferably with biochemistry)
2 semesters of anatomy and physiology
1 semester of microbiology
1 semester of an introductory nutrition course (minimum 3 units) and taught by an RDN
1 semester course in food safety and sanitation or proof of current ServSafe® certification.
1 semester each of Nutrition Counseling, Community Nutrition, Nutrition and Metabolism, Food Economics, Nutrition Services Administration, Food Science, Experimental Foods
2 semesters of Medical Nutrition Therapy
2 semesters of Lifecycle Nutrition
Students who have not completed all prerequisite courses prior to submitting their application will still be considered for the program as long as no more than 3 prerequisite courses are outstanding prior to the application deadline, and the student can demonstrate proof of enrollment in the remaining prerequisite courses in their application. Students with outstanding prerequisite courses must demonstrate that they have completed those courses with a B or better prior to the start of the program. Students will be dropped from the program if prerequisite courses are not complete, or if a B or better was not earned prior to the start of the program. Prerequisite courses completed more than 6 years prior to the application deadline may need to be retaken.
Approved background check (to be done before orientation)
Documentation of 2 negative TB tests  (to be done before orientation)
Immunization records (Please note: some clinical sites may require proof of COVID vaccination in addition to other required immunizations; to be done before orientation)
Enrollment in the MS in NUTR at UCA  (to be done before orientation)
PROGRAM SEQUENCE
Students are required to enroll and pay for 36 hours of graduate credit.  The outline below details the breakdown of the hours:
First Summer – Management Emphasis 
NUTR 5615 Nutrition Services Practicum 
Fall between Summers:     
NUTR 5317 Community Nutrition Practicum
NUTR 5324 Nutritional Assessment
NUTR 5340 Diabetes MNT
FACS 6335 Evidence-Based Research
Spring between Summers:
NUTR 6308 Trends in Nutrition
NUTR 6313 Diet Therapy
NUTR 6335 Nutrition Counseling
FACS 6350 Statistical Methods in FACS
Second Summer – Clinical Emphasis
NUTR 5618 Clinical Nutrition Practicum
---
Anticipated Costs for Students
Item(s)

Estimated Cost

Graduate Application Fee

$45

Graduation Fee

$40

Tuition and Fees

·        Resident (tuition and mandatory fees per credit hour, $325/credit hour X 36 credits)

 

 $11,700

 

Malpractice Insurance (provided by program)

$0

Personal Health Insurance

Varies

Car / Rental Insurance

Varies

Drug testing if required by the supervised practice site (variable)

Varies

Immunizations if applicable

Varies

Travel (variable depending on rotation site and living arrangements)

Varies

Housing (highly variable)

Varies

Books, Laptop, Internet Service (varies greatly)

Varies

RD Exam Review School

$385

Student Professional Academy of Nutrition and Dietetic Membership

$50/year

Lab coat, shoes, uniforms, NFPE equipment

$100

Arkansas Academy of Nutrition & Dietetics conference registration

$50

Food & Nutrition Conference & Expo registration, housing, transportation**

Varies

ANTICIPATED TOTAL

~$12,370
*The program covers the costs associated with background checks and practice exams for the registration exam for dietitians.
**FNCE cost varies greatly depending on location.
Students are not required to live in university housing.
Students are required to maintain an active email account and have daily computer access.
Department of Financial Aid
Website: https://uca.edu/financialaid/
Foundation Scholarships
Website: https://uca.edu/foundation/foundation-scholarships/
Departmental Scholarships
Website: https://uca.edu/nfs/scholarships/
---