1.  Please tell us a little about yourself?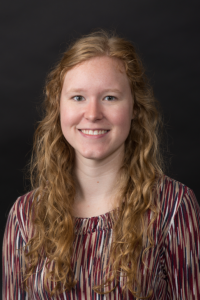 I am a product of UCA! I was an undergraduate student here from 2009-2013, and then a graduate teaching assistant from 2014-2016. I have been teaching at the high school level for 3 years, but I have been teaching for 6 years total. I got married in November 2017 and we currently live in Maumelle, Arkansas. I am addicted to traveling – 12 countries and counting! I bake – get ready for a bunch of cakes and stuff in the break room. I love Harry Potter and Game of Thrones, so I'm up for a discussion on that any time. And I love board games, especially Settlers of Catan!
Tell us about the courses that you would like to teach at UCA?
I would like to teach calculus-focused courses, but I also enjoy teaching courses such as College Algebra, Quantitative Literacy, and Trigonometry.
What are your teaching philosophies?
My teaching philosophy is that anyone can learn math, even if they are not very passionate about the subject. My job as an educator is to help students realize their potential and give them the proper tools and support to reach their goals. If students have a hard time understanding a problem, I try to think of 3 or 4 new ways to explain or approach the problem. It's all about meeting students where they are at, and bringing them up to the level where they need to be.
What is your favorite part of your transition to UCA?
My favorite part of transitioning back to UCA is being able to see all my old professors and be in my old classrooms again. UCA feels like home to me, so it was really easy to come back and be part of it all again!
What is the most challenging part of your transition to UCA?
The most challenging part is remembering that I am a faculty member now, and that I am not a student (or grad student). Mostly I have to remember to call my fellow colleagues by their first names, because it seems strange to be so informal!
What are your future goals or plans?  
I hope to pursue a PhD at some point. I don't have those plans figured out yet, but I can foresee that I will pursue something like that in the future.