Just as athletes need workout facilities and musicians need rehearsal spaces, scholars need quiet retreats. Honors@Farris Hall exclusively houses students enrolled in the Schedler Honors College and University Scholars Program. As an entering student, you will be housed with other new honors students so that you can quickly make new friends and develop as a part of our community. Students in the Schedler Honors College and University Scholars Program receive private room upgrade scholarships so that the cost of staying in honors housing is no more than a traditional residence hall. As you move throughout the program, additional private-bedroom Honors housing is available students in New Hall, Bear Village, and Western Heights.
Suites in Farris Hall accommodate up to four students, each with their own private bedroom. Students within a suite share a living room, kitchenette, and bathroom with a double vanity and private shower. Each private bedroom comes standard with a bed, wardrobe, and desk with chair. Rooms can be decorated to fit your unique personality.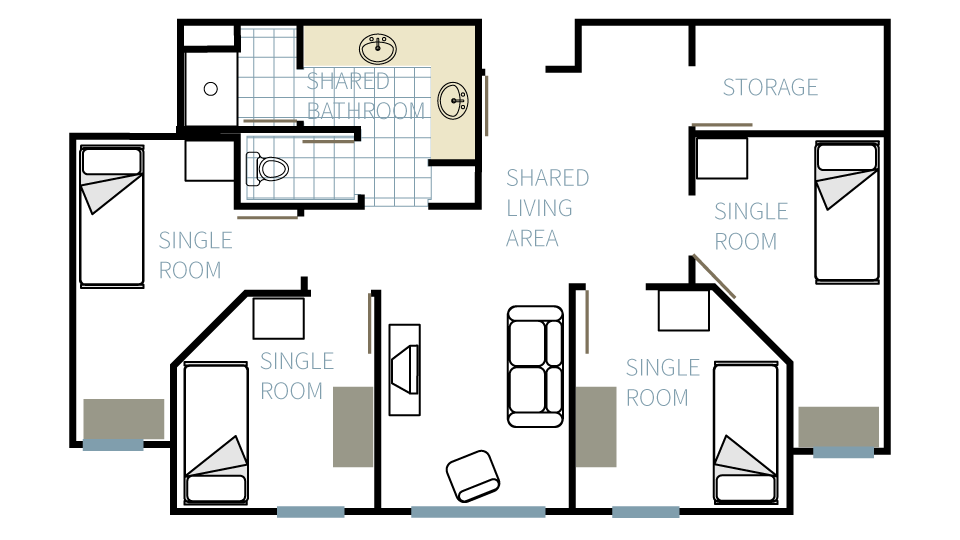 Farris Hall provides students with a presentation room for regular programming, a classroom, kitchen, and study rooms throughout.
In the Farris lounge, students are given access to free printing as well as a variety of board games, books, and puzzles.
The Farris courtyard has outdoor swings and a hammock ring for relaxing or hanging out with friends.
See more of Farris Hall with our virtual tour then see more of the campus with UCA's other virtual tour options.
Residence Hall Programming
Working with UCA's office of Housing and Residence Life, we have extensive programming in Jefferson D. Farris Honors Hall to meet the special needs of Schedler Honors Scholars and University Scholars. Farris Honors Hall has a first-year program to help freshmen make the transition to college more easily. If you join us, you can become part of a community of learners, sharing a welcoming spirit of ideas and forming friendships that can last a lifetime.
Student leadership groups within the Schedler Honors College and the University Scholars Program, in collaboration with UCA Housing, provide programming and live-in mentoring in the Honors living-learning community. Some of these groups are:
Student Mentors are upper-class Honors students who live alongside Honors freshmen. Mentors, selected through a rigorous application and interview process, both develop their own programming and assist in Honors-sponsored freshman events such as the Honors Fall Retreat.
Resident Assistants in Honors residence halls are Honors students whenever possible. These RAs understand the particular demands and needs of Honors students for an academically-oriented living environment.
Peer Coaches are upper-class Honors students who hold office hours in Farris in order to be available to students in need of support and guidance while adjusting to the academic rigors of campus life.
Hall Council consists of students elected by the residents of Farris Honors Hall. This organization works with Housing staff, including RAs, to provide programming and propose policies for the living environment.
Honors Council is the elected representative body for the Schedler Honors College student population. The Council sponsors social events and holds regular meetings that are open to all interested parties.