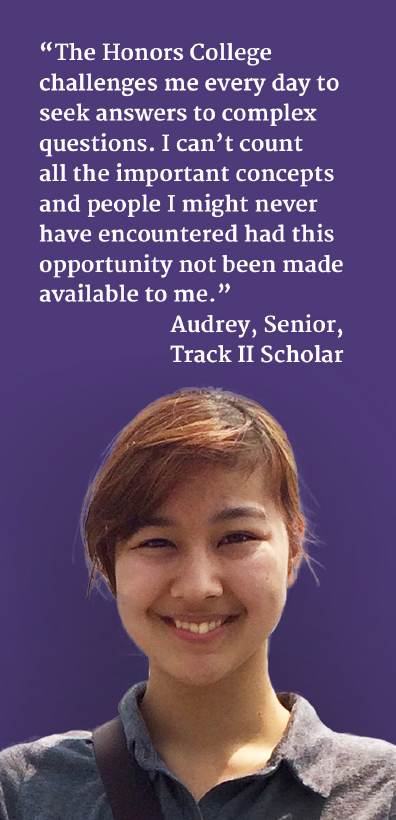 The Schedler Honors College currently provides an interdisciplinary curriculum for 315 of UCA's most motivated students. More than 1,650 students have graduated from the Norbert O. Schedler Honors College during its three decades. These graduates continue to be leaders in their professions and communities.
In 2017, the Honors College admitted 90 students – 75 of whom were ''Track I,'' incoming freshmen, and 15 of whom were ''Track II,'' sophomore scholars.
The ''Track II'' program was created to give students the opportunity to receive the innovative education that the Honors College offers while also creating a more diverse community. Whether non-traditional students, international students, or students who did not learn about Honors before starting UCA, Track II students are essential in maintaining the vibrant learning community that the Honors College strives to offer.
We believe that all Honors students should receive as much support as possible, increasing their access to a quality education while reducing their need to work part-time. Unfortunately, because participation in the Honors curriculum often means completing additional classes and paying an honors participation fee, Track II students now face significant financial barriers in order to have the opportunity to participate.
We invite all alumni and friends of the Schedler Honors College to give any amount to help fund Track II. 

From the Dean

I am extremely proud of our alumni. I hope the skills you gained in the Honors College have empowered you along the way. The Honors College continues to make a difference in the lives of as many students as possible.

I hope you will join us by supporting the next generation of Honors scholars by giving to the Schedler Honors College Enhancement Fund. When you invest in the Honors College by making an annual gift, you are supporting the Honors College community.

Sincerely,

Patricia Smith, Ed. D.

SaveSave