More Than an ID
 Use your Bearcard to:
         Purchase books, food, and supplies

         Access UCA events, Student Health, computer labs, the HYPER, and your residence hall.
         Receive discounts from participating local merchants
But don't lose your Bearcard
Replacement cards cost $15.
If your card is stolen, you can have a free replacement with an official copy of a Police Theft Report noting that your ID was stolen with your personal property.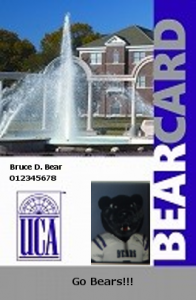 Click the links below to find out more about your Bearcard