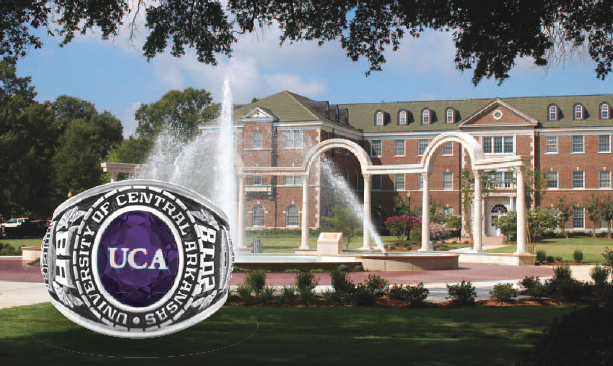 The official UCA Ring evokes special memories of the history and heritage of UCA.  It is a symbolic, continuous link to your university experience, fellow classmates and alumni. The UCA Official Ring provides a tangible connection to the past, present, and future of your alma mater. Showcase your University of Central Arkansas pride in style with our collection of stunning class rings. Browse our multiple designs and order a ring that celebrates your University of Central Arkansas accomplishments and your style.
Presented by the UCA Alumni Association and Association of Future Alumni, our ring is reserved exclusively for graduates and students in good standing who have completed at least 60 credit hours.
Rings can be ordered anytime online www.jostens.com
Ring Anatomy
The top of the ring boldly presents the letters "UCA" encircled by the full university name.
One side of the ring features your graduation year; Main Hall, the oldest building on campus; and our founding year, 1907.
The other side features your degree and the UCA Bear, which was named the official mascot in 1920.
The ring displays four ginkgo leaves on each side representing the four names of the university since its founding.